Donald B. Humphrey managed several nightclubs and bars in Atlanta in the late 1960s and 1970s. I'm flipping through his self-published 2021 memoir "A Life of Blessings And Then Some". As with most self published memoirs, this one could have used an editor, but there are some interesting bits in the latter third of the book that cover the Atlanta drinking scene at the time. Humphrey died in early 2022, so there's not an opportunity to ask for clarification on the details that aren't so clear in the text.
Don got his start in Atlanta's bar and nightlife scene running a topless bar behind the Loew's Grand theater after retiring from law enforcement. He and his wife both managed operations there until the owner began taking money from their paychecks to fund his lifestyle, and they opened their first bar, Bottoms Up in the Georgian Terrace Hotel across the street from the Fox Theater. It was another go-go lounge, showing that Atlanta's reputation for these sorts of bars isn't a new thing (he also took over Kitten's Korner at Peachtree and 6th, and you won't be shocked to hear it was intended as competition for Atlanta's new Playboy Club).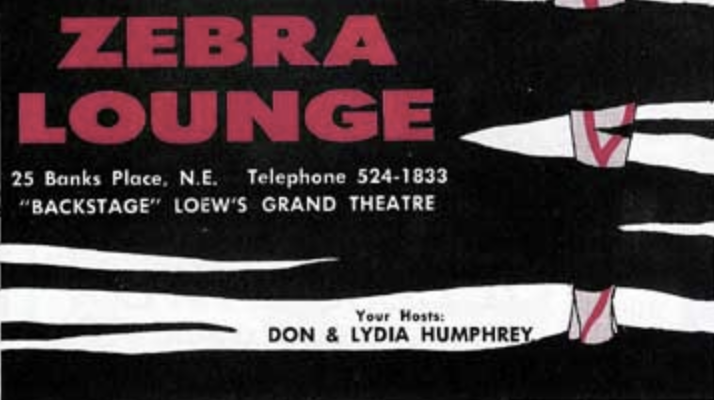 I'm including these details here just to share a glimpse into how far things have come in Atlanta and Georgia. I may write a larger, better researched piece later because this is all very interesting history to me.
On silly Atlanta city ordinances:
There was an ordinance in the city of Atlanta that required men to wear a coat and tie when entering an establishment that served mixed drinks. The requirement was enforced after 8 pm. The city felt that men who wore coats and ties would act like gentlemen. There was no dress code for women, who presumably would not dare go to a restaurant unless they were appropriately attired. Door men would hand out cocktail napkins for customers without neckties to tuck into their shirt collar to function as ties. TIME Magazine thought it odd enough to write a story about Atlanta's reluctance to update their mindset regarding drinking laws.

D Humphrey "A Life of Blessing and Then Some" P. 172
He goes on to mention how customers wearing Nehru jackets and turtleneck shirts in the late 1960s were refused entry because restaurants were still enforcing the coat and tie ordinance. I wasn't able to turn up a TIME article on the ordinance with a quick search, but I'll do some more digging later.
On Lester Maddox and the fight over Underground Atlanta:
Lester Maddox became Georgia's governor in 1967. A notorious segregationist and teetotaler, upon taking office Maddox declared that he would stop approving state licenses for on-premise liquor sales at certain businesses. The book is a bit vague on which businesses Humphrey is talking about, but it clearly applied to the then-almost-complete Underground Atlanta (and based on other comments from Maddox might apply to any business in Georgia). Georgia law prohibited liquor licenses being issued to businesses within 300 feet of a school, and Georgia State University's campus was within that limit.
Attorneys for Underground's developers then pointed out that the new Hyatt Regency Hotel was next to a school as well (a beauty school, hah), as well as the Imperial Hotel's Domino Lounge located next to a Catholic church (also prohibited by the law), and other examples of existing businesses that violated the law Maddox was waving in their faces. The City Too Busy To Hate was more interested in attracting businesses and showing convention attendees a good time than dealing with outdated blue laws. The lawyers threatened to push for injunctions against the Hyatt and other violating establishments if Maddox refused a license for Underground, and he wisely backed down to avoid an expensive public embarrassment.
On illegal dancing and Sunday morning drinking:
Georgia's 1938 blue laws prohibited sale of alcoholic beverages on Sunday. Until the election of Maddox as governor, officials (at least in Atlanta) didn't enforce those laws in the wee hours of Sunday morning and let bars serve until 2am. Maddox decided to make an example out of the Sans Souci on West Peachtree Street after taking office in 1967. State troopers raided the bar at 1am and arrested everyone inside. Those on the dance floor were given additional citations for dancing on Sundays.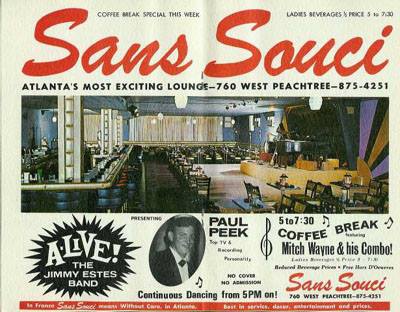 Wesley Asinoff, a local attorney, was hired by a group of nightclub operators to fight Maddox. He filed injunctions against Atlanta churches that held Sunday evening dance recitals and ballet practice. He then filed an injunction against Buckhead's Theater Under The Stars, currently hosting the national tour of Call Me Madam with Ethel Merman. Atlanta elites flooded Maddox with complaints, and he backed down on enforcing a prohibition on early Sunday alcohol service, though service the rest of Sunday was still prohibited.
On drinking in Atlanta in 1963
Alcoholic beverages could only be found in a few hotel lounges and a half dozen nightclubs in the city limits. Every surrounding county was dry. If you didn't belong to a country club, or the American Legion, you could not get a drink outside of the Atlanta city limits.

D Humphrey "A Life of Blessing and Then Some" P. 153
Humphrey goes on to talk about an evening in his hotel lounge where the bartender made last call at 11:30. He asked the bartender why he was told earlier last call was a 2am. "Georgia law permits consumption of beer, so consequently there is a legal cut-off time, which is at midnight. The state does not permit consumption of distilled spirits, but the city of Atlanta does permit the on premise consumption of distilled spirits, so if a customer is drinking beer they get last call just before midnight, but you can have mixed drinks until 2am, which is our closing time". Humphrey then wisely orders a scotch and soda.
More on Atlanta nightlife