Independent Stave Company is the world's largest barrel company, and their Kentucky Cooperage in Lebanon, KY is the world's largest cooperage. And let's not forget that a key requirement for bourbon whiskey is that it be aged in new, charred oak barrels. So you might be surprised to learn that the Kentucky Cooperage isn't on the official Kentucky Bourbon Trail, even though it plays an absolutely critical role in bourbon. So I had to visit and take a tour as part of my distillery roadtrip.
I was really surprised at how many people I met who were touring Kentucky distilleries and hadn't planned a stop at Kentucky Cooperage. How can anyone who loves bourbon not want to see how one of the key components of their spirit is made? Actually, how can any spirit lover not want to see this? The bourbon industry's demand for new oak casks means that there's a steady supply of once-used ex-bourbon casks on the market, and these are the barrels that Scotch whisky, rum, and other aged spirits are most commonly aged in.
Kentucky Cooperage Visitor Center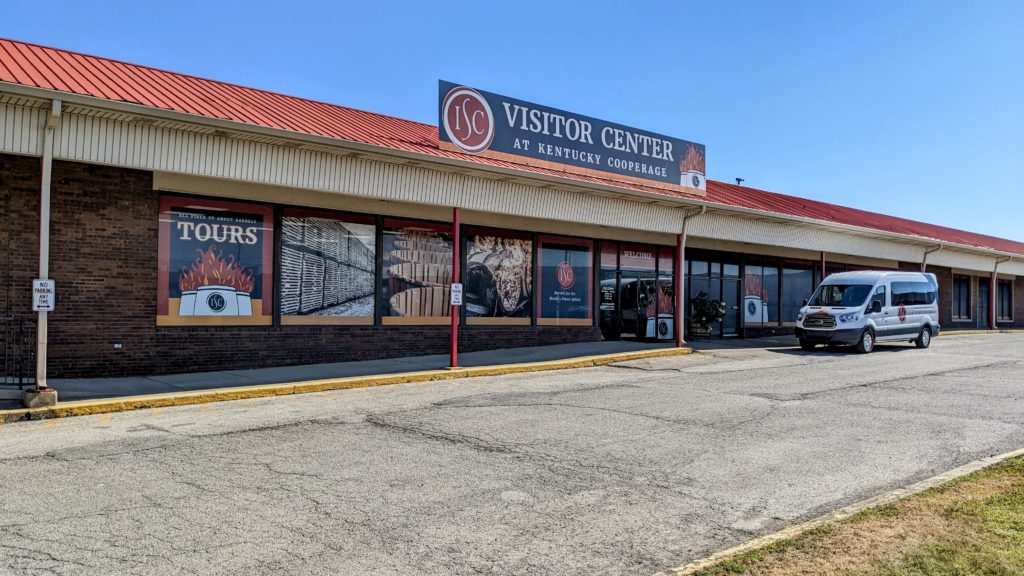 The Visitor Center is in a re-purposed strip shopping center in Lebanon, Kentucky. Inside you'll find displays showing how oak trees are cut into staves and how staves are raised into barrels. The visitors center isn't the most exciting place to spend time, but you're not here for that, you're here to tour the cooperage.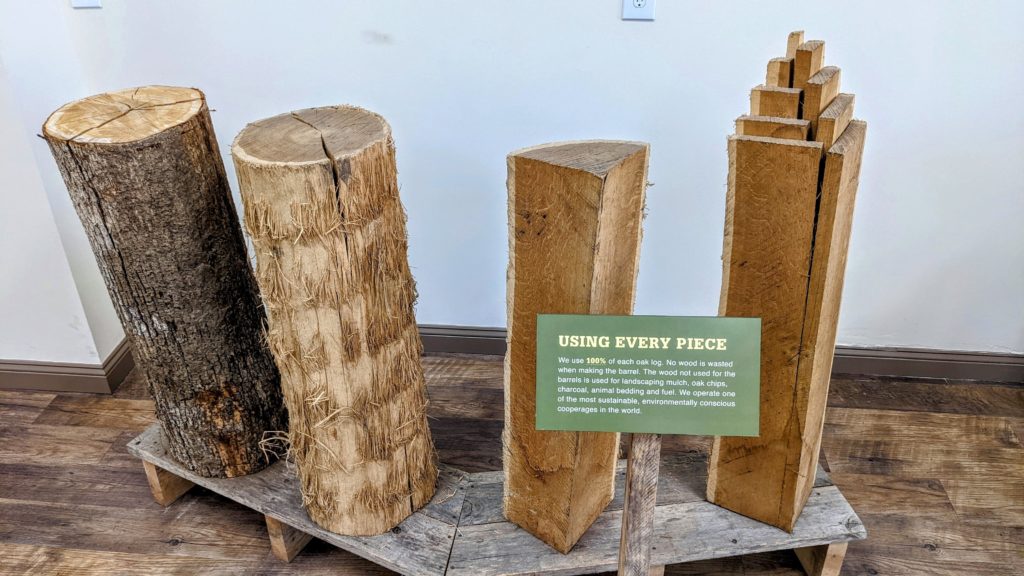 Tours start here, where you'll meet your guide and watch a video about ISC and the cooperage. Your guide will talk a bit about barrels and answer questions before you get on a bus for the very, very short ride to the cooperage across the road.
The Tour
The tour is conducted using radios and headphones – this is a very busy working cooperage, and it's as noisy as you'd expect. The only bad thing about the tour is that photos aren't allowed inside, so I don't have much to show you of the tour itself, but you can find photos and videos online. There are stands throughout the cooperage where your tour group will stop as the guide explains what's going on behind them, and you can get a good view of everything.
How big is the cooperage? It's big, and you won't see everything on your tour. Here's a wide panoramic photo I took from across the road. It extends farther than you can see in the photo to the left and almost as far as you can see to the right.

At several stops, a cooper will demonstrate different processes just for the tour group. At an early stop, a cooper will raise a barrel in front of the group at a slower than usual speed so you can see what they're doing. Another stop takes you to the rework area where barrels pulled out of the production line due to flaws are repaired, and a cooper demonstrates how flaws are marked and how they fix the problem.
You'll get to see the barrels getting charred, and they'll roll a few barrels out of the charring machine on fire for fun (if you have a problem being in a smoky environment you might not want to go on the tour). There are lots of opportunities to ask questions.
Before you get on the bus, you'll have a chance to take a photo in the only spot in the cooperage where it's allowed – a display of ISC casks. Your guide will be happy to take a photo of you in front of the display (and a selfie of herself as well!).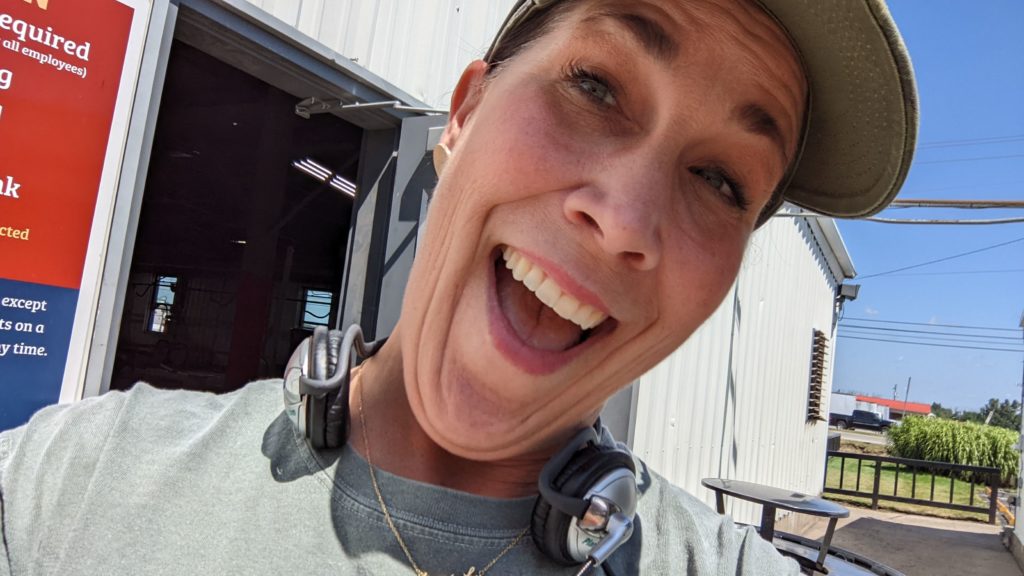 After the tour
Don't just drive off to your next stop after the tour, there are a few other things to see that weren't on the tour.
Kentucky Bourbon Barrel
On your way back across the road to the visitor center, you'll pass an old 1970s-style Kroger supermarket. It's another ISC business called Kentucky Bourbon Barrel. These folks handle used barrels. Many distilleries agree to sell their used casks back to the cooperage they bought them from, as there's a demand for used bourbon barrels. Kentucky Bourbon Barrel will take these casks and recondition them for their next customer. These casks might go to American spirit, wine, or beer makers or they might be broken down into staves and shipped overseas to cooperages in Scotland and elsewhere who will then rebuild them and use them to age other spirits.
Kentucky Bourbon Barrel isn't on the tour, but you can walk or drive by it to see the stacks of staves outside and if you're lucky, the doors might be open for a peek inside.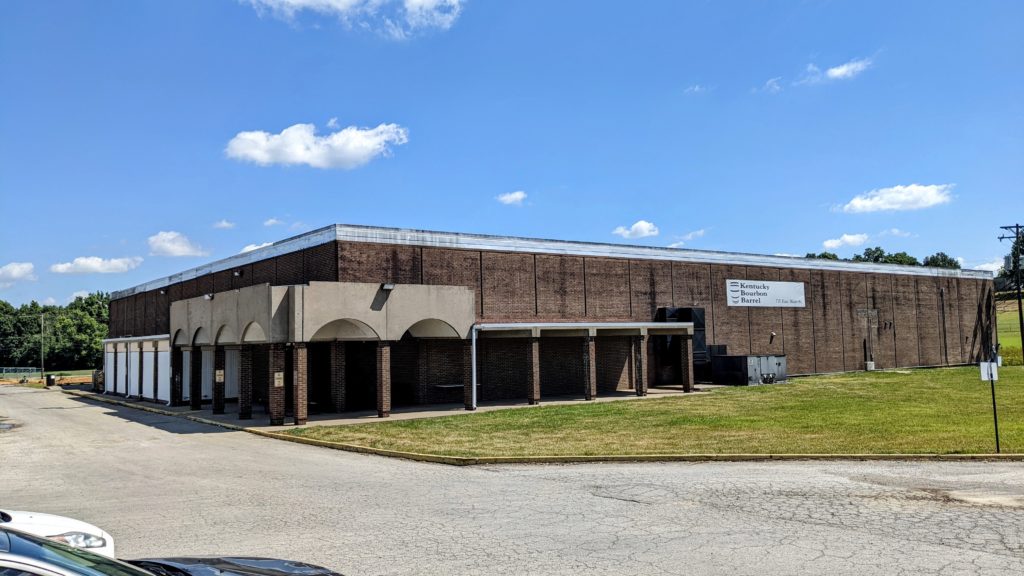 Stave aging yards
Barrel staves need to be seasoned (dried and aged) before they're used in a barrel. This helps to break down some of the components in the wood that help improve the whiskey. Different distilleries prefer their barrel staves to be aged in different ways and for different lengths of time, and ISC caters to them in the aging yards next to the cooperage. If you're driving from the visitor center, turn left onto the main road in front of the cooperage and you'll see them on your right after you pass the building.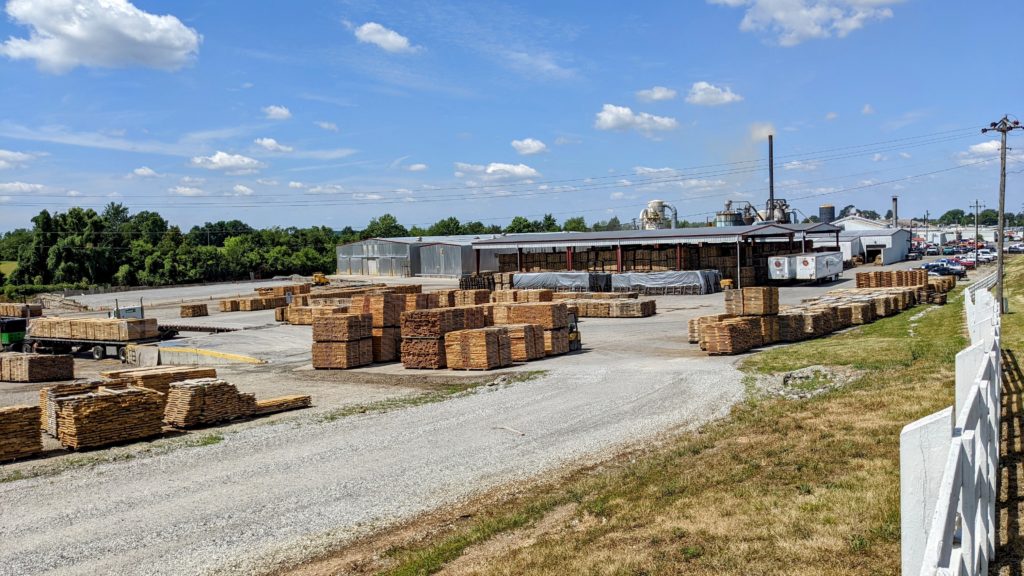 Details
The visitor center is at 711B East Main Street in Lebanon. Tours can be booked online via their website. Tours don't run on weekends. You can also just stop in at the visitor center and see the displays if you're not able to fit in a full tour. ISC also sells merchandise here, including used barrel staves and used barrels.
It's really a great tour, and even if you don't like spirits (but why are you here reading this?) I think the cooperage is something that anyone can appreciate. There are lots and lots of moving parts, and seeing all of the individual parts coming together as a unified system is a beautiful sight. Casks moving in one direction as they're built, hoops and other parts moving overhead on conveyors in another direction.. I could sit there and just watch the coopers work for an afternoon.
Another cooperage: Brown-Forman in Louisville
Brown-Forman's cooperage in Louisville is also open for tours, though I didn't realize that when I was there.