After two and a half years without traveling outside Singapore due to COVID-19, the family and I took a trip back to the US in June to visit family and friends — and visit some distilleries! In all the time we've lived in Singapore, I've never really been homesick but after such a long time without being able to visit (or travel anywhere at all) I have to admit that it was tougher than I expected to get on the plane back home to Singapore. The distillery road trip portion of the visit took me almost three thousand miles through the southeast, and I'm excited to begin sharing details about the trip and what I saw (and tasted).
Overall thoughts on the distillery road trip
Let me start out by defining what the trip actually was. In the time I was there, I was in Georgia, Florida, Tennessee, Kentucky, Indiana, and Alabama. I managed to visit distilleries in every state except Florida, where I had a short stay with family and other priorities (like Universal Studios with the kids) that kept me away. The first two weeks were spent mostly with family and the last two-ish weeks were all mine after the family went back home to start the next term of school. That's where most of the distillery tours happened.
The trip!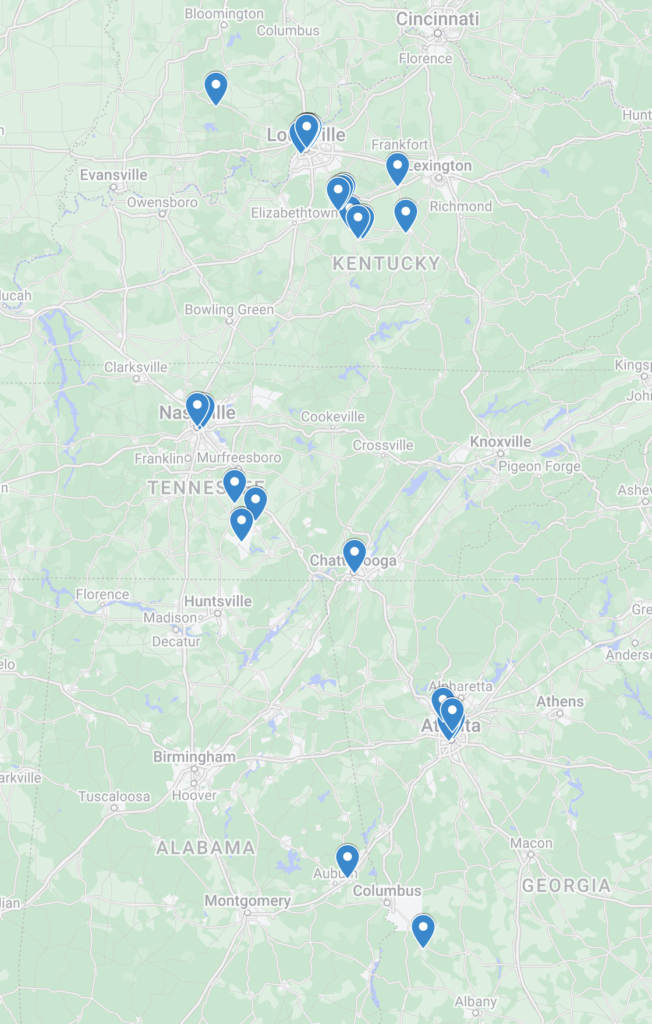 Below is a list of distilleries and breweries I visited and will probably write a post about. I did visit several other distilleries and visitor centers on the trip (for example, Rabbit Hole) but I wasn't able to book a tour or wasn't able to do much more than get my passport stamped and see whatever is open for the public to see, so I don't have much to post about. As I finish the posts and publish them, I'll add a link here.
Old Fourth Distillery, Atlanta GA
Chattanooga Whiskey, Chattanooga TN
Corsair Distillery HQ, Nashville TN
Nashville Barrel Company, Nashville TN
Tennessee Legend at Marathon, Nashville TN
Corsair Distillery at Marathon, Nashville TN
Bardstown Bourbon Company, Bardstown KY
ISC Kentucky Cooperage, Lebanon KY
Limestone Branch Distillers, Lebanon KY
Maker's Mark Distillery, Loretto KY
Lux Row Distillery, Bardstown KY
Wilderness Trail Distillery, Danville KY
Copper & Kings Distillery, Louisville KY
Michter's Fort Nelson Distillery, Louisville KY
Angel's Envy Distillery, Louisville KY
Old Forester Louisville, Louisville KY
Stitzel-Weller Distillery, Louisville KY
Four Roses Distillery, Lawrenceburg KY
Spirits of French Lick, West Baden Springs IN
Jack Daniels Distillery, Lynchburg TN
Cascade Hollow Distilling, Tullahoma TN
John Emerald Distilling, Opelika AL
Richland Distilling, Richland GA
ASW at The Battery, Atlanta GA
Independent Distilling, Decatur GA
ASW at American Spirit Works, Atlanta GA
Line Creek and Awkward Brewing, Fayetteville GA
I was very pleasantly surprised at the state of things post-COVID. The biggest thing that stuck out to me is how NICE everyone was. Restaurant and bar service staff were all super friendly and helpful, though a bit understaffed as expected. This wasn't just my observation, everyone in my family agreed that people seemed nicer than we remembered. Maybe this is due to COVID, maybe it's because we were also nice to them as well, who knows. But it left a real impression on us. Not to say that people weren't nice in the US before, but things seemed to be at a different level and we didn't run into the disinterested phoning-it-in front of house folks that we remembered finding on occasion back in the day.
Craft distilling in the southeast US
The craft distilling world has really taken off over the last five to ten years as well. I can think of less than a handful of distilleries in Georgia when we moved to Singapore and now they're popping up everywhere. It's great to see! I was also surprised to see a whiskey distillery in Alabama, and added them as a last minute visit.
One disappointing note is how many people I met who described some craft distilleries as "not good" or rolled their eyes a bit when I asked about local distillers. While there are certainly some bad craft distilleries out there, many people forget that this is a relatively new thing in the region. Many distilleries will start up, implode, and disappear. But others will make it. They'll start out making so-so or mediocre spirits at first but the key is if they're learning from their mistakes and growing as they go.
When people told me a distillery wasn't very good, my response was to ask which category the distillery falls in:
Are they producing bad/mediocre spirit but learning as they go and getting better incrementally?
Or are they just cranking out bad stuff and are just too arrogant to learn or don't care to improve?
This is important – not everything a distillery produces will be good. Large distilleries have the luxury of blending disappointing batches in with better stuff or just making them disappear in other ways. Small distilleries are operating on a tight budget and don't have the flexibility that larger ones do. The key is whether the startup distillery that puts out a bleh bottle today is putting out better stuff in a year.
Trip planning
I'll make a longer post about this, but I learned a lot about the tricks of planning a string of tours. Some things are obvious: tours in less-visited locations like Georgia, Indiana, and Tennessee can be scheduled at the last minute (day before the tour or even the same day), but getting into some of the more popular spots on the Kentucky Bourbon Trail takes advance planning as many tours are sold out more than a month in advance. I did have some luck booking same-day tours at popular locations due to last minute cancellations, but as a single guest it was easy for me to find spots to squeeze into. If you're touring with family or friends you'll find things a bit tougher.
The American rum scene
Happily, more American distillers are making rum. Unfortunately I didn't get to visit any in Florida where rum distilling is quite popular on this trip. I did get to visit several in Georgia, Tennessee, Indiana, and Alabama, but none in Kentucky. They do exist in Kentucky, I just didn't get to any. The rums I tried are a bit of a mixed bag. Some were excellent, others seemed to be modeled on the Bacardi light rum profile. And one almost certainly had a bad cut on their spirit run that made it taste a bit head-y. It will be interesting to see how these products evolve and improve over the next few years.
On the retail side, the selection in liquor stores was overall disappointing. Some stores had excellent rum selections, others didn't go far beyond Bacardi and Don Q. One absolute standout is Elemental Spirits in Atlanta, which I stumbled across on my way to Manuel's Tavern after checking in to our rental house. If you're in metro Atlanta and haven't paid them a visit, you really should. On the disappointing side, Total Wine's rum selection varied widely. Their Dunedin Florida location had a decent selection, and I grabbed some Hampden and Foursquare bottles. When I got back to Atlanta, their Kennesaw location had such a mediocre selection that I didn't bother driving to their Alpharetta shop to see what they had there.
Independent stores were also a mixed bag. Toco Giant was fantastic and I walked out with a mixed case of rum, agave spirits, and whiskey. Several people recommended Whitlock Package in Marietta, but while their staff was super friendly their selection was mediocre. Some rums like Foursquare were even stocked in the bourbon whiskey section. The experience was a good reminder of how lucky I am to live in Singapore, where we get so many great spirits thanks to La Maison du Whisky and other great distributors.
The American rum scene is still in its early stages, and it's understandable that liquor stores with limited shelf space can't afford to dedicate slots to brands that may not move. As American views of rum continue to evolve beyond only seeing it as a mixer and as something that can be enjoyed alone just like whisky, stores will respond. I don't want this to seem negative — the retail rum scene is so much better than it was ten years ago, where the best rum you could find at Total Wine might be a Zacapa or Brugal. It's just not developing as quickly as I wish it would.
What's next?
I'll be posting details of the trip and the distilleries I visited over the coming weeks, as well as a post on the lessons I learned about planning trips like this. I bought many, many bottles on the trip but there were only so many I could bring back to Singapore. My Instagram posts won't be able to cover all of them, but I'll hit as many as I have bottles for. I posted about my trip to the New York Rum Festival and Congress in June a few days ago.