The first stop on my distillery tour (here's a full list of all the stops) was Old Fourth Distillery in Atlanta. Opened in 2014, they're the first legal distillery to open in Atlanta in the post-Prohibition era. They're in the Old Fourth Ward neighborhood, hence the name. Interestingly, they helped fund it in 2013 with a Kickstarter campaign, though with a low goal of $40,000 I think the crowdfunding campaign was probably more about marketing and outreach than raising funds, and I'll have to remember that if I'm ever in the position of opening my own distillery.
It's still amazing to me that there are distilleries in Atlanta. When I moved overseas in 2013 there was a growing brewery scene but no distillers. I can only think of two in Georgia at the time — Thirteenth Colony in Waycross (the first legal distillery in Georgia since Prohibition) and Richland Rum in Richland (the first and so far only single estate rum distillery in Georgia). There may have been some small corn whiskey distilleries as well, but certainly nothing in Atlanta.
Sep 2022 update: The distillery has been listed for sale. I've typed up my super hot hot takes in another post.
The distillery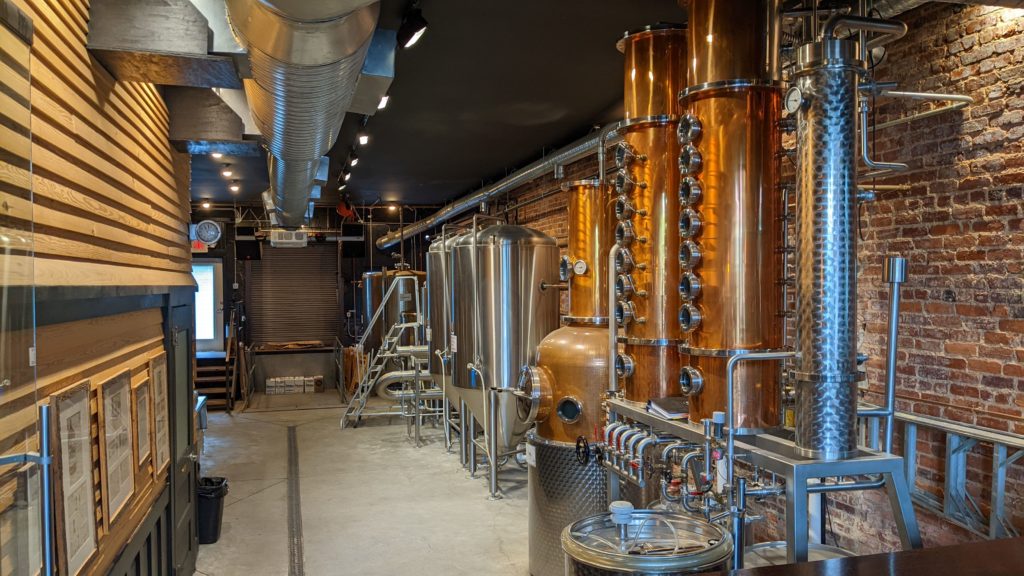 The distillery sits behind a storefront on Edgewood Ave, and it's a tight space, holding the entire distillery as well as a tasting room (and a speakeasy-style hidden bathroom). They held the title of America's smallest distillery for several years, in fact. Their limited space means that they've had to pick and choose what they make vs what they source, especially as demand has grown. Thus, they source their whiskey from MGP (more on this later) and make the rest of their spirits in house.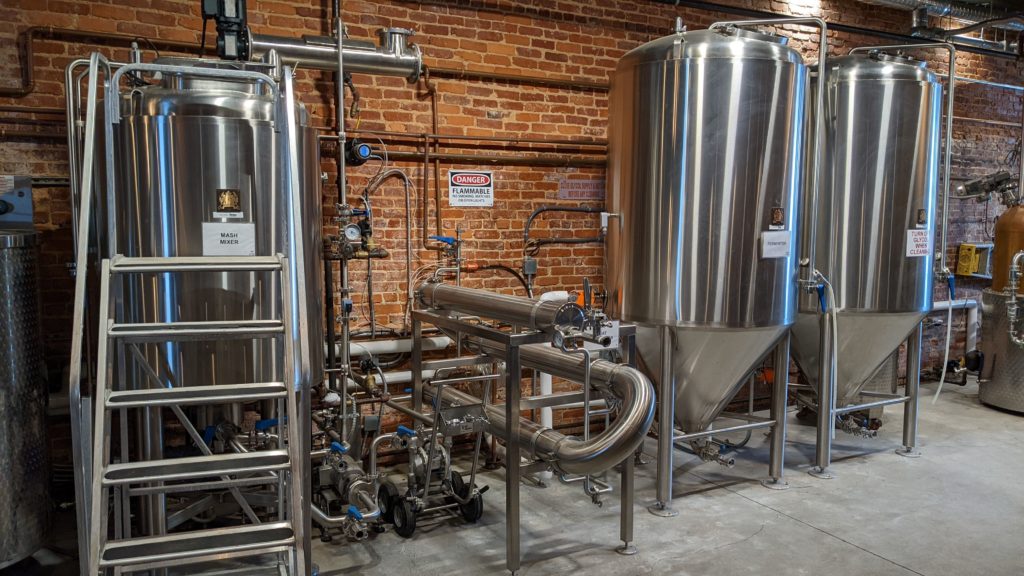 I was surprised to learn that they make their own vodka rather than sourcing GNS like many others do. Their vodka is made from turbinado sugar, which makes managing distillery waste easy as there are very few solids left post-fermentation. They also use this as a base for Lawn Dart, a 32.5% ABV liqueur made with lemon peel and ginger. Their gin is GNS-based, however.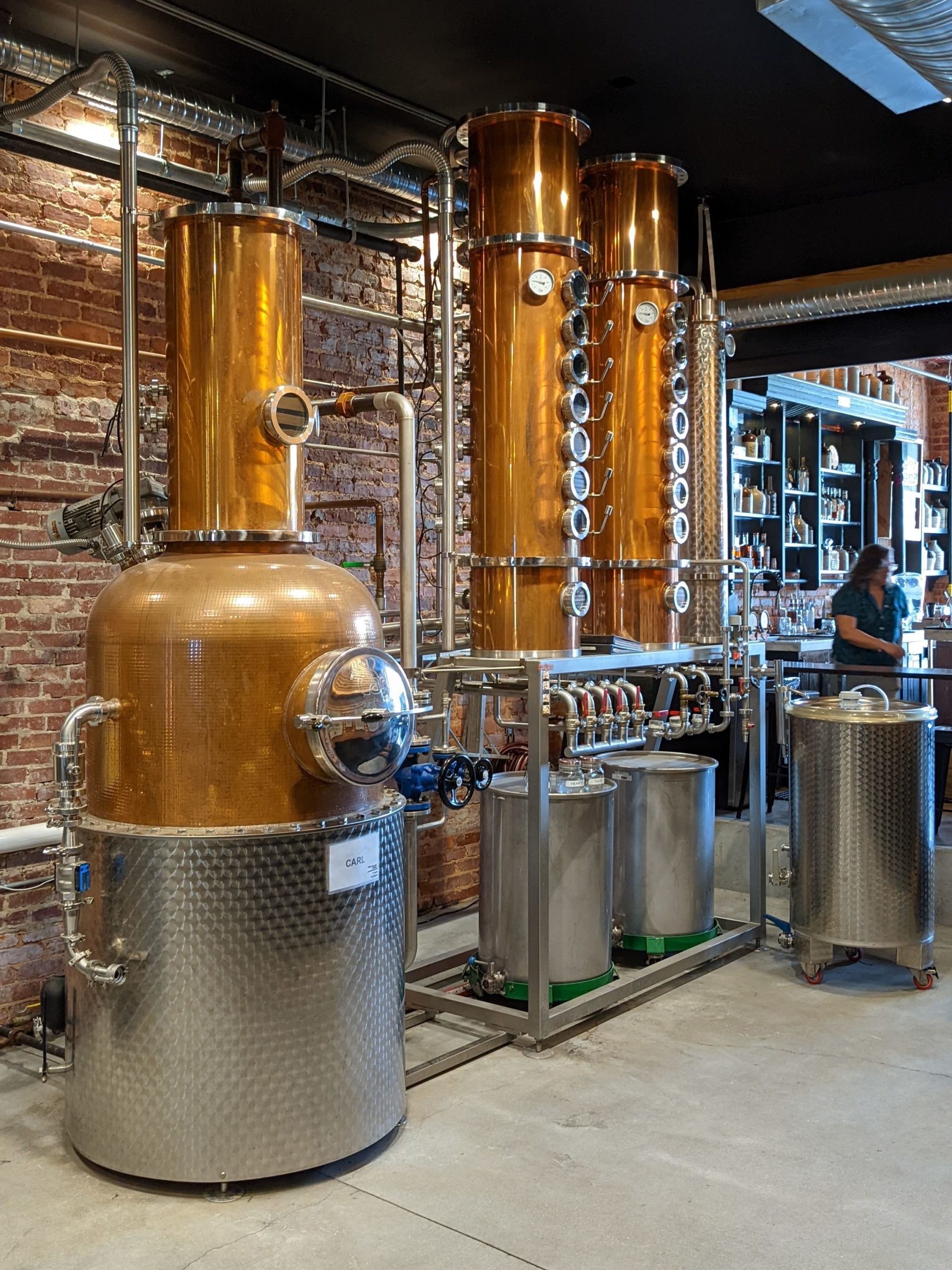 You may have noticed the lack of a few things here. There aren't casks, for example. There's obviously no space for that here, and they have warehouse space in East Atlanta where they age their whiskies. They buy new make, white whiskey from MGP and bring the casks to Atlanta to age instead of selecting casks from MGP's warehouses that are ready to bottle as many other brands do. They'd just released a limited edition cognac cask finished whiskey while I was there. I tried a sample of it and then stupidly decided I'd wait to come back and get a bottle a week later after my trip to New York. As you might guess, they'd sold out of it by the time I got back to Atlanta.
About that BiB bottle..
They've put a lot of effort into their brand image, and their Bottled in Bond bourbon has one of the prettiest, most distinctive bottles I've seen. And on this topic, I'd be remiss if I didn't address the controversy around this bottle. Sourced whiskey is a touchy topic that I'll write more about in another post, but the easiest way to summarize the situation is that some whiskey consumers have a strong dislike for sourced whiskey (in other words, whiskey that a distillery buys rather than makes themselves). There are many pros and cons to sourced whiskey, and even the snootiest of whiskey snobs has to admit that large industrial distillers like MGP make great whiskey.
My personal opinion is that I have no problem with sourced product, as long as the brand is transparent. The first time I tried Old Fourth's BiB, I was a bit disappointed with the lengths they went to to hide the actual source of the product. You can read my rant from my Instagram post. Others have had the same concern and asked if the labeling violates US laws on source labeling (I am not a lawyer, but it does seem like this isn't legal). You can decide for yourself — here are the front and back of the bottles. It's not obvious to the layman that this is actually distilled in Indiana (the DSP number over the entrance to the trolley barn on the back is the only hint).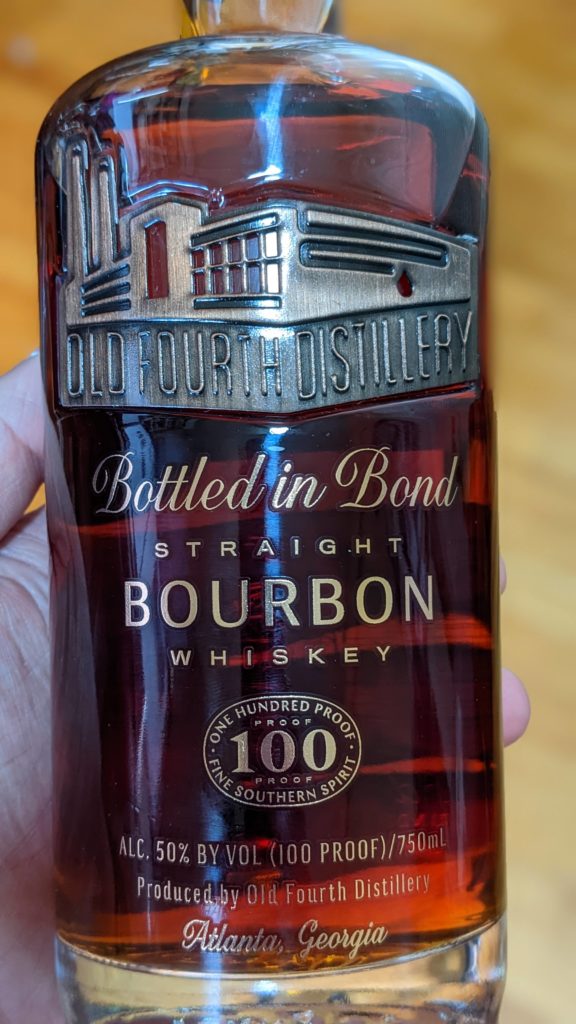 OK, but what's IN the bottle?
Labeling issues aside, this is still a great bourbon (I just wish they were more transparent about the source of the distillate). As mentioned earlier, they buy unaged new make white spirit from MGP and age it in Atlanta. This means that they're the ones managing the aging spirit and deciding when it's ready to bottle. I'm not sure about cask filling – if they're getting filled casks from MGP or if MGP sends IBCs of whiskey that O4W puts into their own barrels. They do have a cask finishing program underway, I think the Cognac-finished BiB is their first finished release. I'm not sure what other finishes they're working on, but given how quickly the Cognac cask sold out there's clearly a demand for more.
From what I've seen, there's no standard release blend of their whiskey, every release is a single cask bottling.
Tasting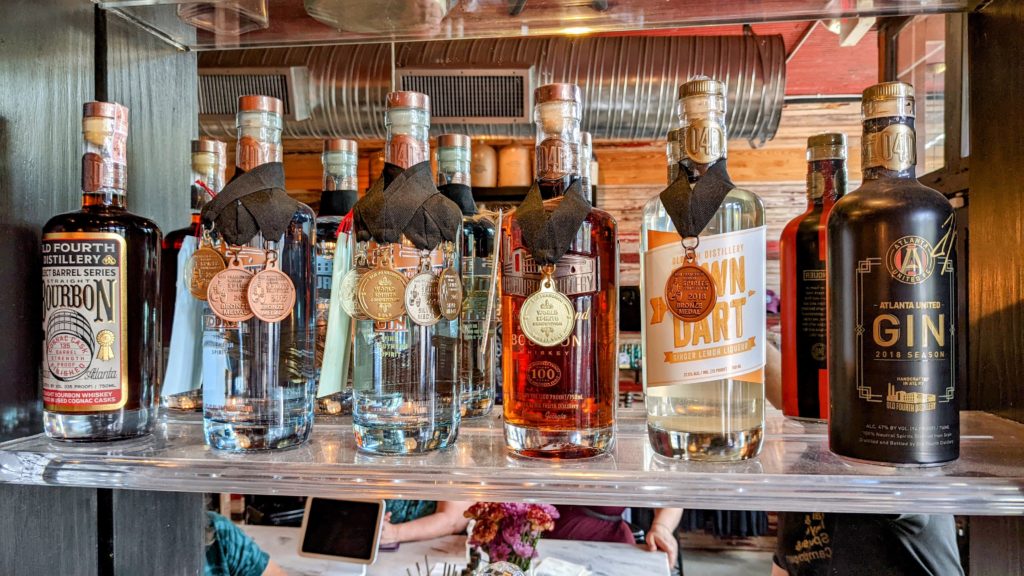 I sampled their standard lineup of vodka, Lawn Dart liqueur and BiB bourbon. I can't remember if I tried their gin or not. I added on tastings of their Cognac-cask finished bourbon (the bottle on the far left in the photo). The bourbons were great, and I really wish I'd bought a bottle of the Cognac finished bourbon while I was there. Lawn Dart surprised me, I'm not a big fan of sweet liqueurs, but this wasn't as sweet as I expected and had a nice balance of the lemon and ginger with mild sweetness. It would make a refreshing drink on a hot Atlanta day and at only 32.5% is probably a bit dangerous.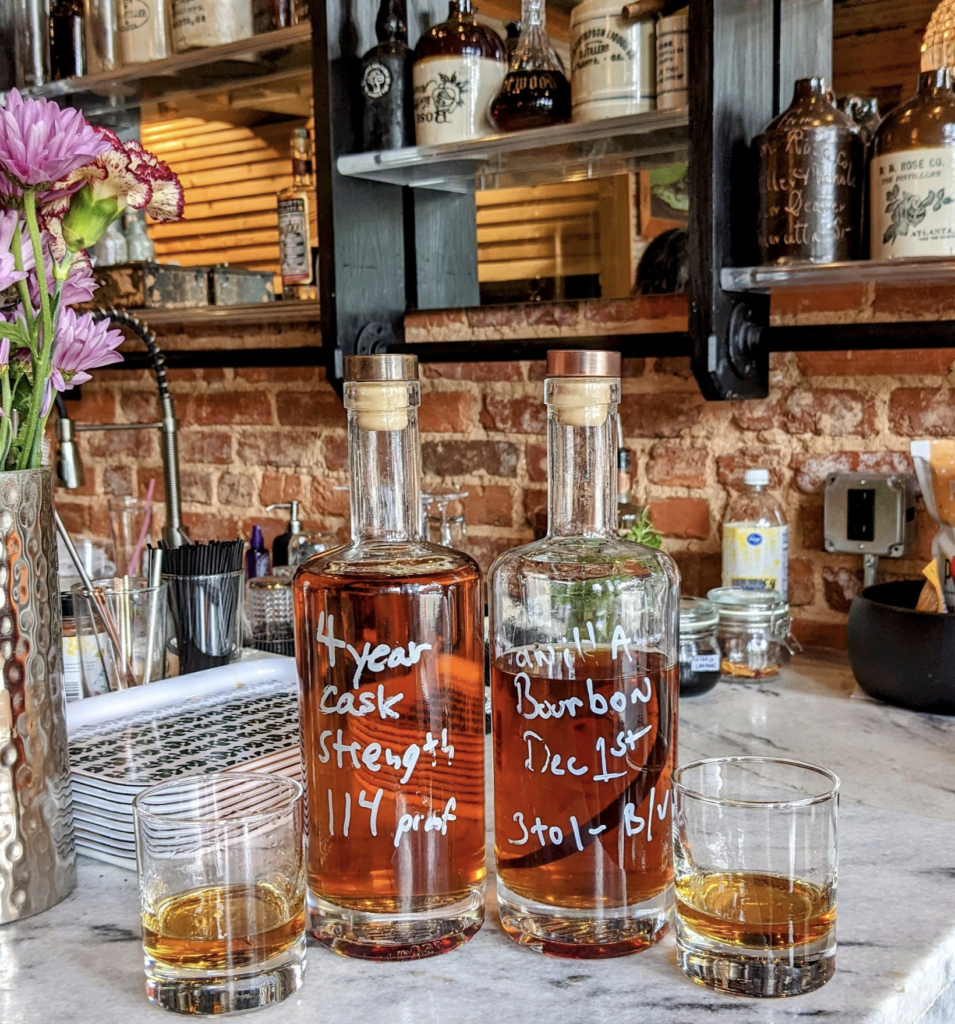 I bought glasses of a few other things the host pulled out from behind/under the bar. I remember there was also an absinthe and another infusion besides the two in the above photo. Everything I tried was good.
The tasting room/bar itself is a small space with a few tables and a bartop. If you're interested in booze history, you may notice the jugs on the back bar in my photo. Those are just a few of the many jugs and bottles from the RM Rose Distillery which operated in the late 1800s and early 1900s in Atlanta, later moving to Tennessee before being shut down entirely (not to be confused with the current RM Rose Distillery in North Georgia). These are on loan to the distillery from a local collector.
Details
My tour was relatively short (it's a small distillery), but was done very well. There was one employee on site who ran the tasting room/bar and conducted the tour, and she knew what she was talking about and gave a well-paced, well-delivered, and accurate tour through the distillery. The tasting was also well run and not rushed, with opportunities to try additional bottles outside of the standard range. There's a selection of merchandise on sale as well (shirts, glasses, hats, stickers, etc).
They're located at 487 Edgewood Ave SE in Atlanta. The tasting room opens at noon from Thursday-Sunday. Tours happen at 12, 2, 4, and 6 and can be booked in advance or not (walk-ins are OK). Aside from tours, the bar is open for tastings and cocktails. I was there at noon on a weekday, so I can't speak for how crowded it is on weekends or evenings, but as I said it's not a large place so keep that in mind for your visit. Double check these details with them before visiting in case something has changed. Their website is https://o4d.com/.