In our last roadtrip report, I had to dash out of a tasting at Corsair's headquarters that ran over. My destination was Nashville Barrel Company, a whiskey brand that's exploded on to the scene in recent years.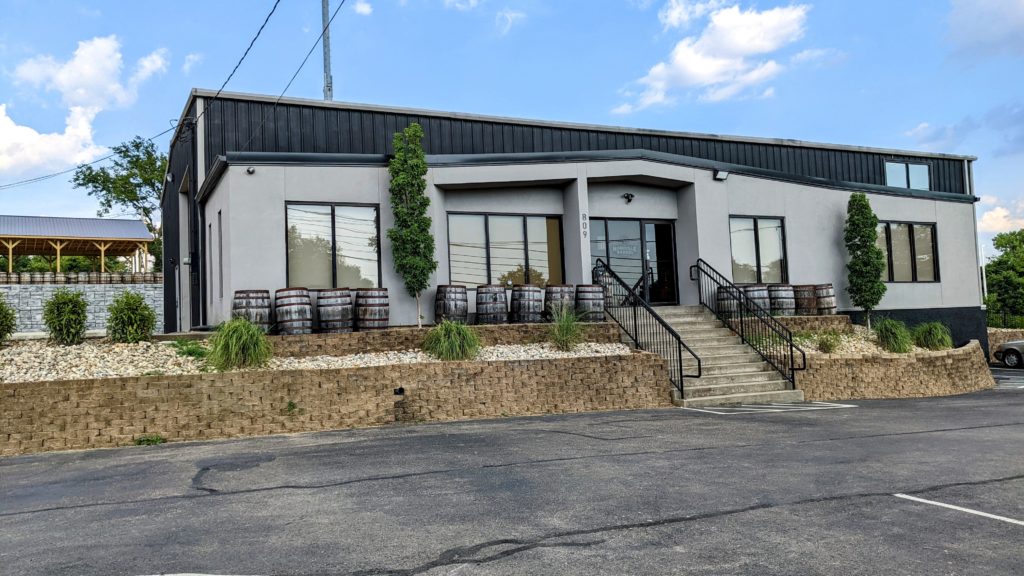 NBC was founded by friends who managed to do what many of us dream of — turning a whiskey hobby into a business, specifically using their skill at choosing quality casks of whiskey. They released their first commercial barrel pick of rye in 2020, which led to requests for them to pick casks for other groups and businesses. In 2021 they opened a warehouse and tasting room in Nashville.
A bit about blenders and independent bottlers
Let's take a step back and talk (briefly) about what independent bottlers and blenders are and how they're different from a distiller. Even though Nashville Barrel Company (NBC) calls their warehouse a distillery, they don't actually distill anything and there's no still there. What NBC does is purchase distilled spirits from other distillers and age them in their warehouse. They may even transfer the spirit from the original cask into a cask that previously held a different spirit or is made of a different kind of wood to give the spirit a different finish. Casks that previously held wines like port or sherry or other spirits like rum or brandy are commonly used for this.
In the bourbon world, this is also referred to as "sourced whiskey". Indiana's MGP is famous as a major source of rye and bourbon whiskey to brands large and small across the United States. The art in sourcing casks successfully is having a good palate and knowing how to select quality casks, which is where NBC has excelled. Some brands using sourced whiskey are…. shall we say, less than transparent about where their spirit comes from, but NBC is as transparent as they're allowed to be (some distilleries require that bottlers not disclose the source).
I've seen NBC described as an independent bottler, and they are in a way, but you could also argue that they don't fit the standard IB mold (like Holmes Cay or Blackadder) and are more of a blender (as they have a core range of blended sourced whiskey). I'm not going to go down that path in this post, but I'm planning a much longer exploration of this world in another post later.
NBC's products
They have rye and bourbon whiskey as you'd expect. These come in different strengths and formulations (some are single cask, some are blends/vattings, some are finished). They also have several rums (some from Venezuela and I've had others that I swear must come from a certain distinct distillery in Barbados) and just released an agave spirit. I also heard that they had a sorghum spirit that was quite nice, but they didn't have it in stock when I visited.
The Facility
This is normally where I'd talk about a distillery's production areas and aging warehouse, but this is a different kind of business. The front of the warehouse sells bottles and merchandise and has a small tasting bar. Behind the bar is a private tasting room for flights and barrel picks, and that's where I had my flight. Alone as it turns out, which was a surprise as the tasting bar outside was full.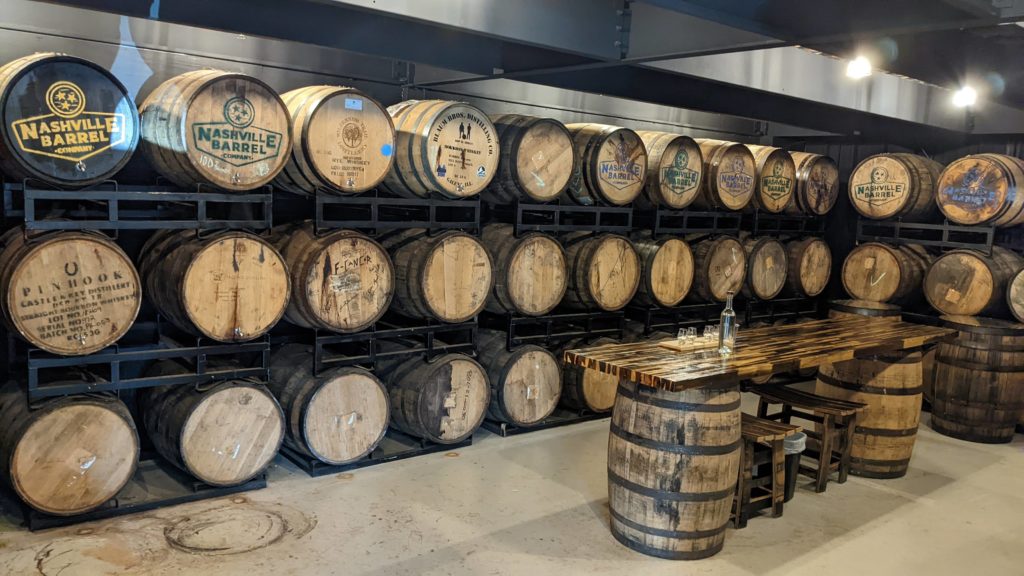 You might notice that some of the casks have taps in the head. These are the ones open for tastings. Others are private picks like the Fuck Cancer cask selected by Zeke Baker and the folks from Dads Drinking Bourbon.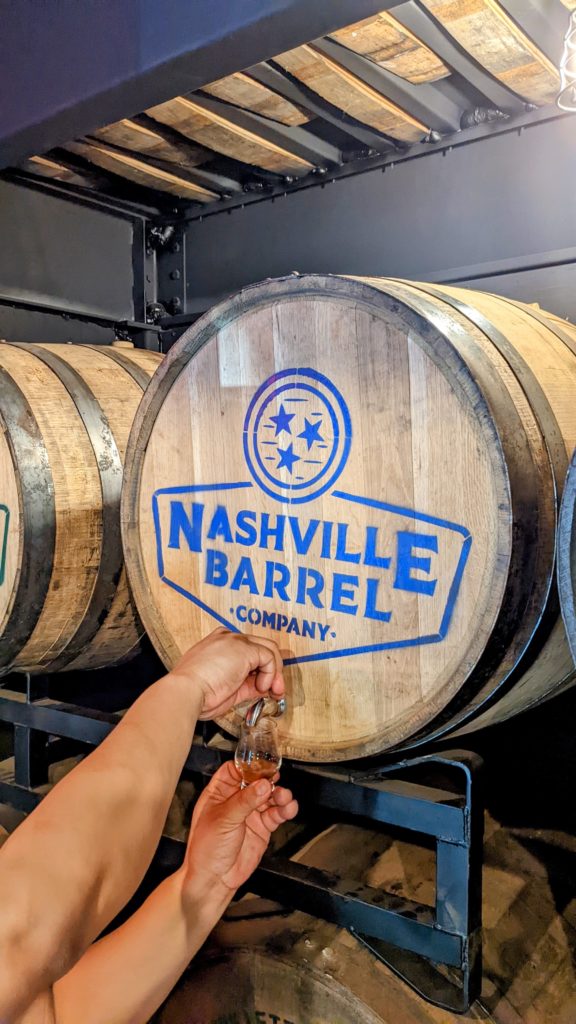 The back of the building has additional aging stock and a bottling line. It's generally off limits, but I was taken in the back for a quick peek and told what I could and couldn't take pictures of (basically anything not a rack of casks is off limits, sorry). They'll sometimes do cask picks in the back as well.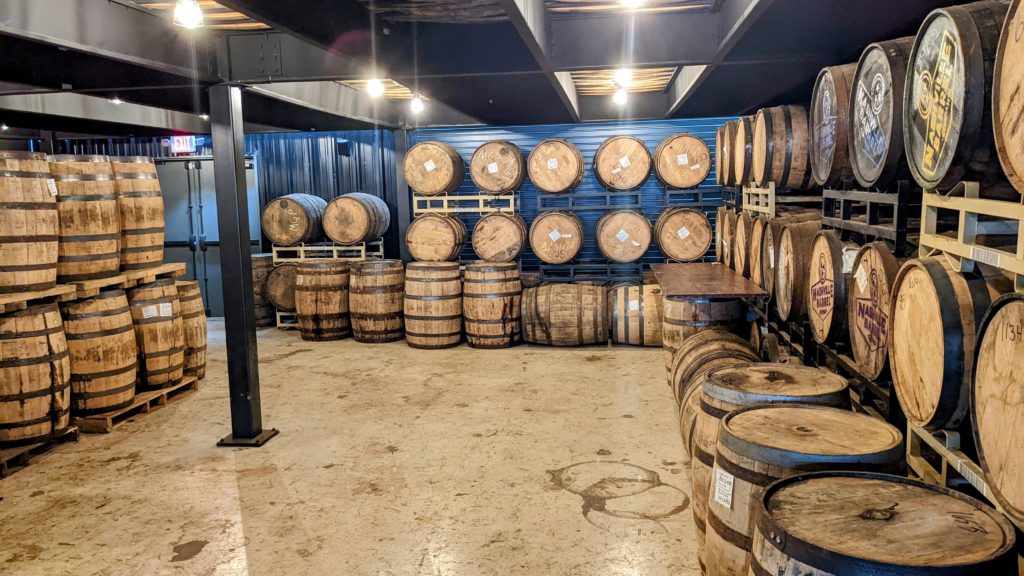 They've built their operations for efficiency, you can choose a cask in the morning and come back later to pick up the bottles.
The Tasting
Unfortunately I didn't write down what I tasted that afternoon, though I can assure you that everything was very good. The tasting flight consisted of bourbons and ryes, but I was also given a taste of their agave spirit and a honey finished whiskey.
After the tasting, I headed out to the bar in front and tried a few more things. Two rums bottled for Frugal MacDoogal (a liquor store chain in TN and SC) and Prestige-Ledroit (a wine and spirits distribution company) and a bourbon that was bottled as a charity benefit involving an athlete I'd never heard of.
Visit details
I really enjoyed my time there and wish that I'd been able to spend a little longer sampling some other bourbons. If you're in Nashville, they have a VIP membership program that gets you bottles, swag, and a weekly flight with your membership.
They're located at 222 Fesslers Lane in Nashville. The bar is open for walk-ins, but premium tastings need to be booked in advance. They're currently open from 9-5 M-W, 9-6 Thu-Sat, and 10-5 on Sundays. There are three tiers of premium tastings:
Premium Tasting Experience ($50). You'll get a flight of their blends/vattings/finishes/picks. This is what I did.
Friends of NBC Experience ($60). These are the Wilderness Trail and Pinhook casks you see in the tasting room photos, you'll get a flight of these or similar single barrels.
Bottle Pick Experience ($150). They describe this as a mock barrel pick. You'll get samples from four casks, then you pick the one you like best and get a bottle of it.
The tasting bar also has merchandise and bottles for sale. Staff were very friendly despite a bit overloaded with the crowd in the front when I first arrived. Interestingly, you can get bottles for picks and blends made by/for various private companies, organizations, and states (eg; a New York state pick of rum for NY liquor stores).
There's not much around them, don't expect to be able to walk to a restaurant or another bar if you visit. You'll need to Uber to wherever you're going.