The next stop on this summer's roadtrip is in Nashville, and is the first of two visits to Corsair Distillery locations. This is their HQ location, the newer of their two Nashville distilleries and home to, well, their HQ offices as well as their whiskey and gin stills, bottling line, lots of cask aging space, and a cocktail bar. I'll make a separate post about their Marathon location later.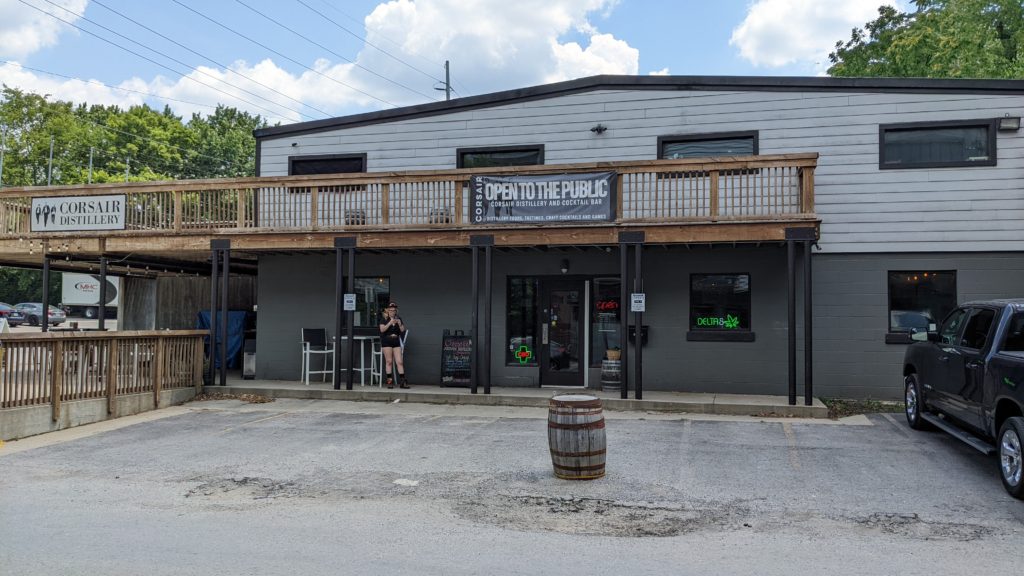 A brief history of Corsair
Even though the founders of Corsair are from Nashville, the distillery was founded in Kentucky in 2008. The reason might sound familiar if you read about the hurdles Chattanooga Whiskey went through to open — Nashville didn't allow distilling. While the founders built their business around their Bowling Green distillery, they also successfully lobbied Tennessee government officials to change the law and opened a Nashville distillery in 2010. This location was (and still is) at Marathon Village and has a beer taproom to go along with their spirits (the founders started out as homebrewers). They opened their HQ location in 2015 and closed their original Bowling Green distillery in 2018 (leaving the city without a distillery).
Corsair has always pushed the limits a bit when it comes to their spirits, and they're not shy in sharing their methods and what they've learned along the way. Darek Bell, one of the founders, has written two books for distillers looking to try something new and experiment a bit with whiskey (Alt Whiskeys covers alternative grains, smoked grain, and even hops. Fire Water: Experimental Smoked Whiskeys focuses exclusively on smoked whiskey with dozens of different woods and techniques). Matt Strickland, who formerly worked at Corsair has also written two excellent books that cover fundamental information for any distiller (Cask Management for Distillers goes deep into the art and science of cask aged spirits. Batch Distillation: Science and Practice does the same for batch distilling processes).
The tour: Production floor
The tour starts in the bar downstairs and then heads upstairs to the distillery. Our guide said that things were in a bit of a transition as some equipment there was moving to their Marathon location and some equipment at Marathon might be moving here as well. It sounded like mashing and fermentation moved to Marathon, though there's still a mash filter and mash cooker there.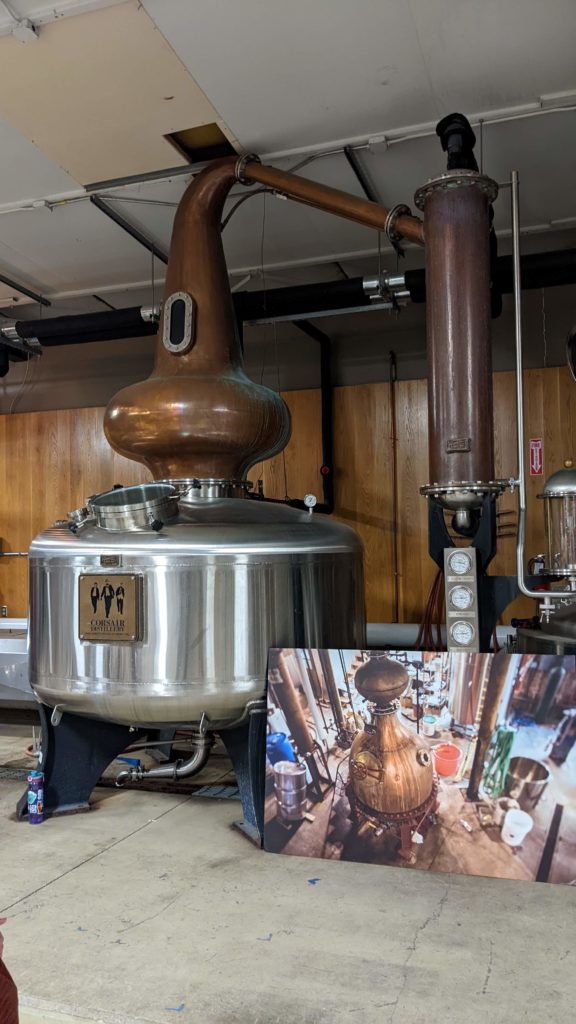 Their copper pot still is used for whiskey. There's a stainless gin still (I think it's named Cartman) that they used to use as a stripping still when it was at Marathon. Off to one side was what looked like a metal tote with an agitator and condenser attached. At first glance if the condenser wasn't attached, I might have mistaken it for a mash cooker. This is their stripping still, and I assume there's a steam coil inside to heat it. We'll see more of these square stripping stills when I post about their Marathon distillery. A taller double-high tote-thing sat to the other side, I believe that is actually the mash cooker.
There's a filter press to one side that I assume is used as a mash filter. This could let them use very finely ground grist, which would increase the amount of sugar they're able to extract. The guide didn't mention it, so I'm not completely sure.
With things production spread between two locations, I have to assume that tote tanks are a critical part of their production, potentially being used to move fermented wort from Marathon to the HQ location where it's distilled.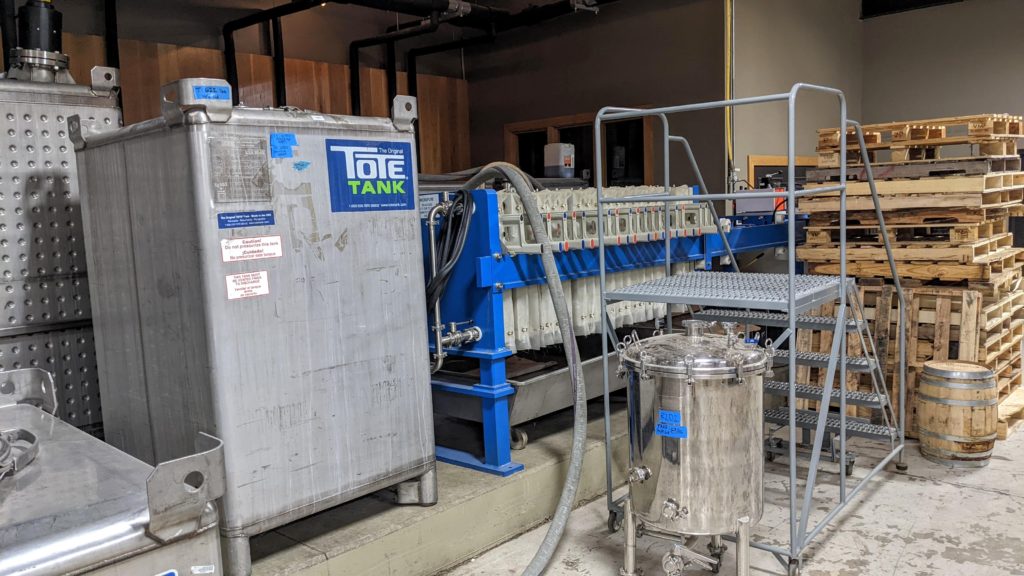 Aging and bottling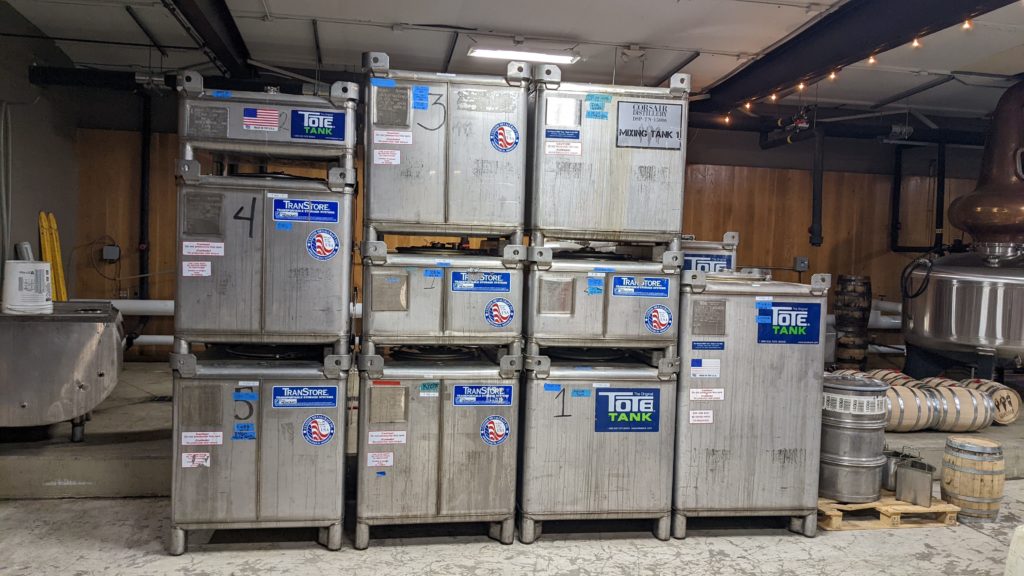 Post-distillation, spirit goes into a cask or into stainless steel totes. The totes are resting, mixing, or infusing the spirit with botanicals (eg; their vanilla bean infused vodka). The casks are self explanatory, but Corsair tends to use smaller barrels than you might find at larger distilleries. Many of their barrels are 15 or 30 gallon casks instead of the standard 53 gallon cask commonly used in American whiskey distilleries (though they did have some 53 gallon casks as well).
They don't produce enough volume for a bottling line, so it's done by hand. You can see in the photo that they have everything needed, including a beefy sound system for music. The hammer is to drive in the caps. It's not fancy, but it gets the job done. Bottling lines are expensive and large and don't make sense at the volume Corsair is at.
Products and tasting
Corsair produces a variety of whiskeys, gins, absinthe, and infused rum and vodka. You'll also find some seasonal and limited releases that come from their unconventional and experimental outlook, such as quinoa whiskey.
The base for all of their whiskies is made in house. Their vodka is made with purchased NGS, and I assume their gin and absinthes are as well. While they started out making their own rum with molasses, they're now buying bulk cane sugar spirit for their spiced rum.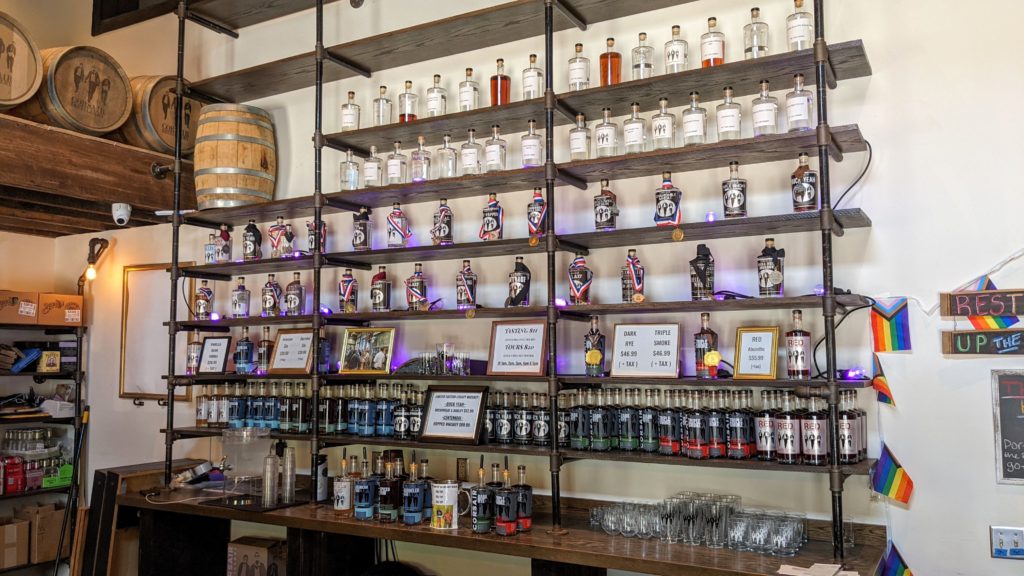 Our tasting flight was held at the bar and consisted of six spirits:
Vanilla Bean Vodka (40%). Vanilla beans in NGS.
American Gin (44%). Pot stilled and vapor infused. Unclear if this is NGS but it probably is.
Spiced Rum (42.5%). Spices steeped in cane sugar spirit.
Barreled Gin (45%). Aged in ex-spiced rum barrels.
Dark Rye Malt Whiskey (42.5%). 65% rye and no corn set this apart from what you might normally find in an American rye whiskey.
Triple Smoke Whiskey (40%). Made with three different sets of smoked malt (Scottish peat, cherry wood, and beech).
I preferred their whiskeys to the rest of the flight. Unfortunately our tour ran over time a little bit and I had to dash out to my next stop. That meant I couldn't take my time and really enjoy the triple smoke whiskey, but I've had it many times in the past.
Visit details
Our guide worked the bar downstairs and was very enthusiastic. There were about eight people in the group. The guide did a reasonable job explaining the production process and was familiar enough to more than satisfy the tour group. She did seem a bit thrown off by some of the changes in the production areas and seemed unsure of a few things. The tasting was well executed, with good explanations of each drink and time to ask questions. The tour and tasting weren't rushed, and in fact ours ran a bit over time.
There's a selection of merchandise and bottles for sale in the front bar/tasting room. The staff were very friendly and enthusiastic. One thing to note, the distillery is upstairs, so if you have mobility issues this might not be a good tour for you.
This location is at 601 Merritt Ave in Nashville. There are some other bars in the area in case you're looking for something else to do while you're in the neighborhood. Tours can be booked and paid for online at their website. Currently, they're closed from M-W, from Thu-Sun they're open from noon to 7. Their bar is open for walk-in tastings and cocktails as well, and there's an outdoor seating area as well. Their website is https://www.corsairdistillery.com/tours-tastings/