After a disappointing unplanned stop at another tasting room, I really needed a beer. Fortunately Corsair Distillery's Marathon location was able to help, as they have sixteen taps of beers (and ciders) from Nashville craft breweries in addition to their own spirits! This is the next stop on the roadtrip.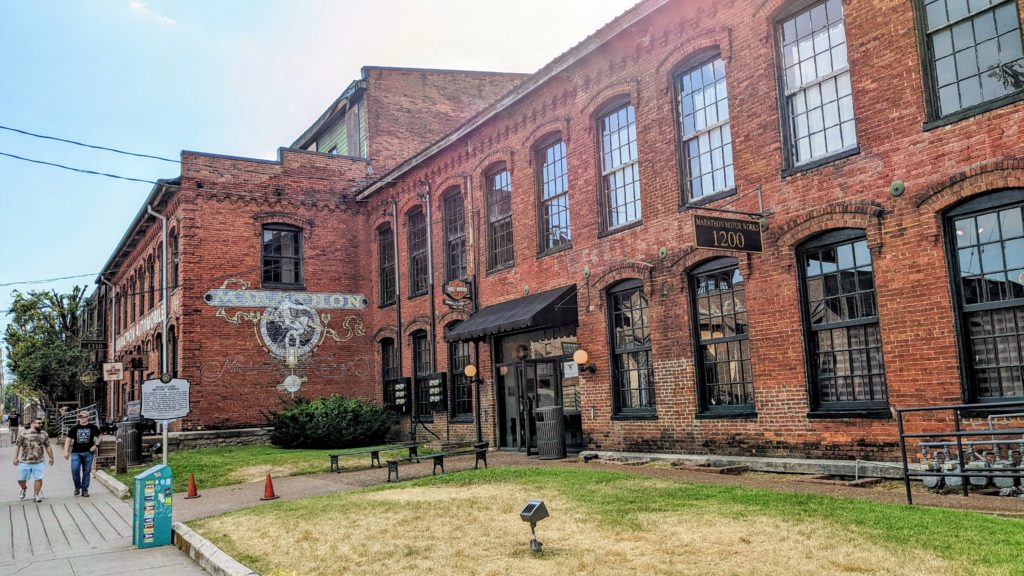 This is Corsair's first Tennessee location, and I believe they used to also serve some of their own beers here. I had a great chat with the bartender, who it turns out was also going to run our tour later. Overall, the front of house experience here was much better than at their HQ location. Part of that is due to the physical space in the bar. The HQ bar felt cramped — while the tasting bar had a high ceiling, the actual cocktail bar ceiling was lower and it felt tight. Marathon, on the other hand, had multiple large areas with high ceilings (as you'd expect from a former factory space) and lots of space to spread out. I also felt like the feel of the staff was different as well. HQ bar staff exuded a party vibe while the Marathon team was a bit lower key and serious about their craft.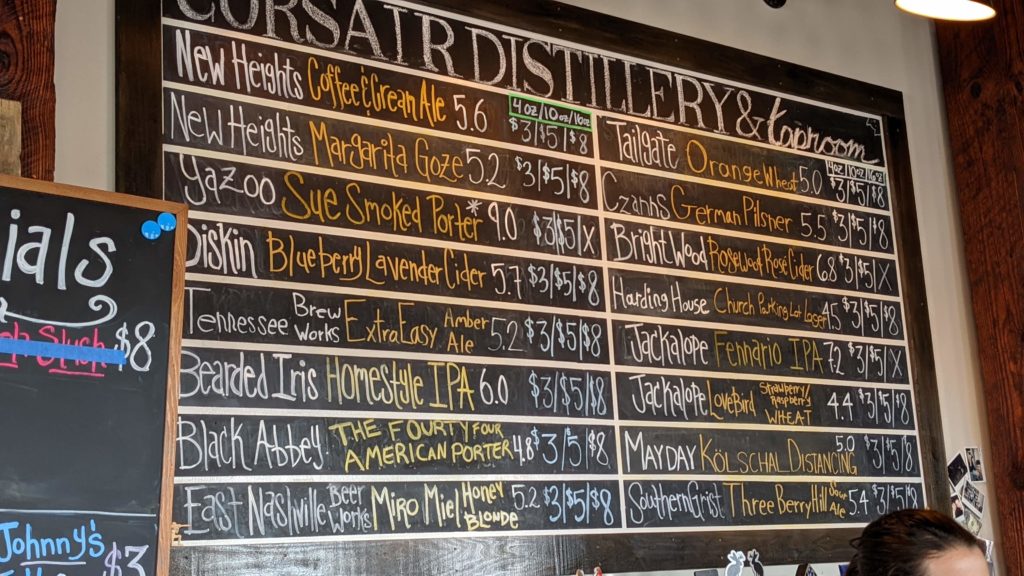 If you're not familiar with Corsair, I posted about a previous tour of their headquarters distillery here, that post has more background information on the distillery's origins and is a good place to start.
Touring the distillery
I mentioned that their HQ distillery was a bit tight and they had to make good use of the space there. This distillery is even tighter, with much more going on.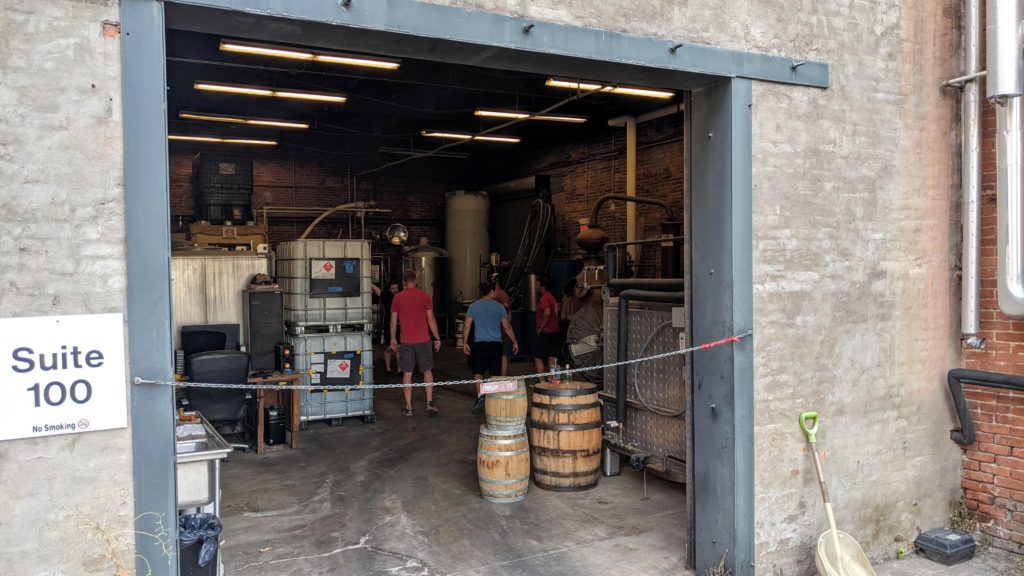 Milling
Let's try to go through the tour starting at the beginning of production. Corsair has their own grain mill in one corner of the distillery. What's not shown here is that much of this malt comes from a farm owned by distillery owner Darek Bell just north of Nashville, where there's actually a malthouse. And if you remember some of Darek's books mentioned in the last post about Corsair, you won't be surprised to learn that they're producing their own smoked malt for their Triple Smoke whiskey here. I didn't think to inquire about touring their malthouse before I planned this trip, but I'll see about a visit the next time I come through town.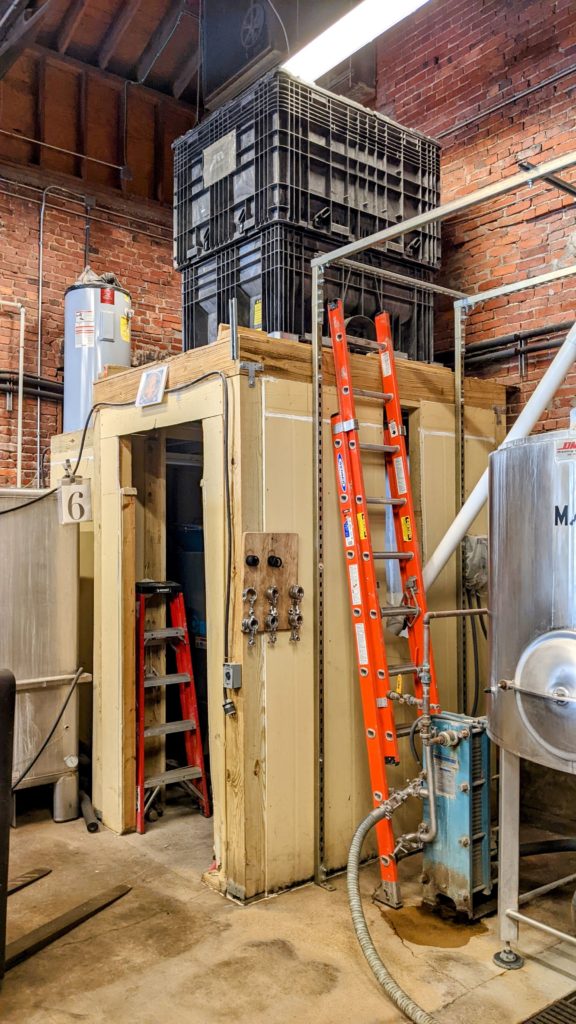 I didn't think to ask while I was there, but I'm not sure exactly how the malt arrives. I don't remember seeing a feed from outside the building into the hopper, so it's possible that the entire hopper is taken off with a forklift and loaded at ground level.
As an aside, Corsair doesn't make their own base spirit for their vodka, gin, Absinthe, or rum. These are made with neutral spirit sourced from Ultrapure.
Mashing and brewing
The milled grain heads to the mashing and brewing kettles. Prior to Corsair's arrival, their taproom was the original location of Yazoo Brewing's brewery and taproom, and some of the equipment here was left behind when they moved to a much larger brewhouse. I don't think this actual room was their original distillery, I believe the original distillery was elsewhere in the Marathon complex for reasons I'll go into when we get to the section on distilling.
Fermentation
Remember that I mentioned earlier that space is tight when you look at the row of fermentation tanks blocked in by forklifts, kegs, pumps, totes, and IBCs. They really don't have a lot of room to work with here. And because they're in a historic building, they're very limited on what modifications they can make.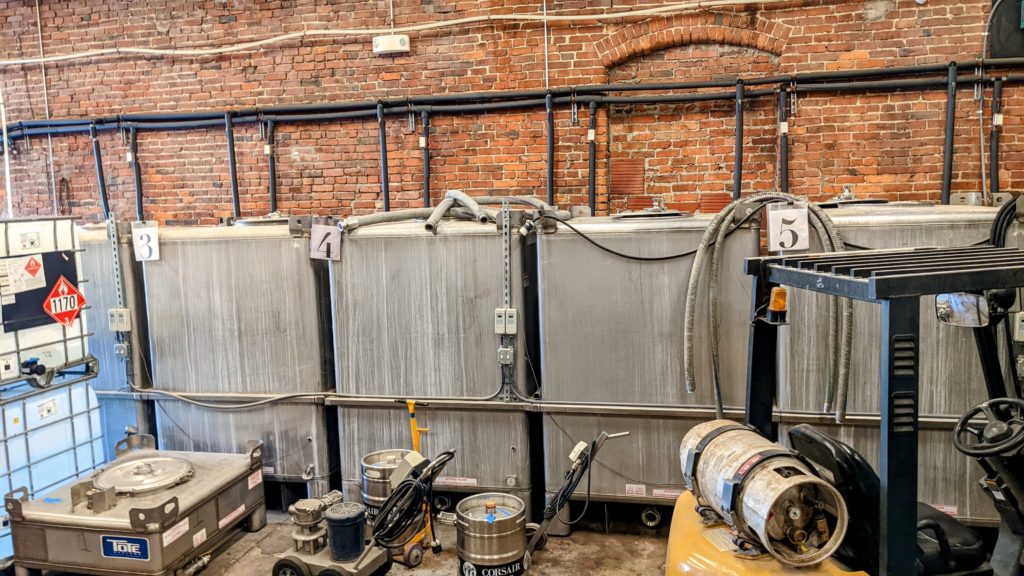 Distillation
I mentioned in the HQ tour post that I thought the square stripping still at Corsair's HQ distillery was a little unusual. They have three more of them here, all feeding into an IBC. I'd love to hear more about these tote-like stills, if you know more about them please leave a comment!
Here's a better look at one of the tote stripping stills and the setup of the three condensers: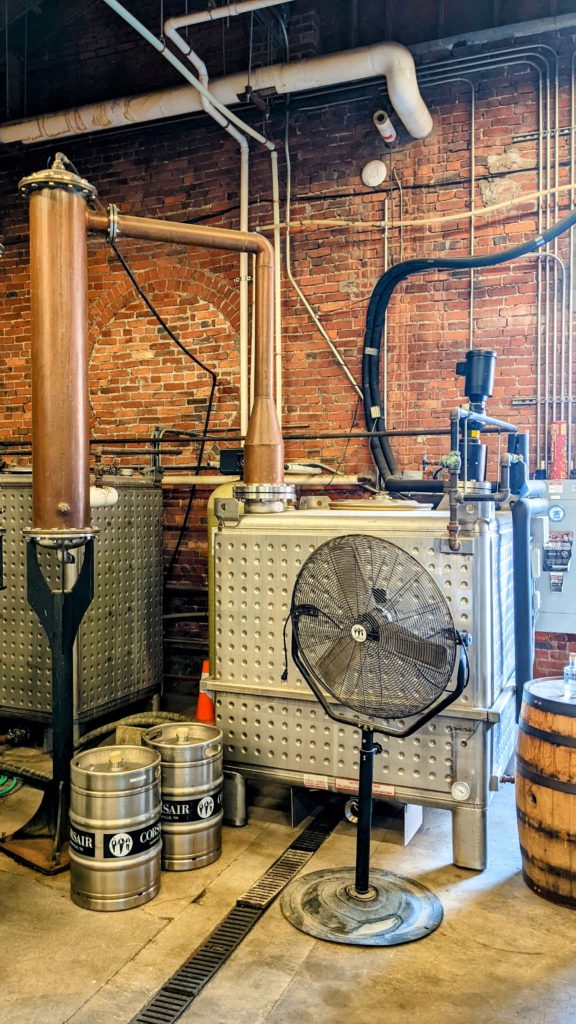 It's a setup that helps efficiently strip beer and let them quickly move to the spirit run. I assume the IBCs of stripped spirit are taken to HQ for the spirit run in their larger whiskey still.
The guide at their HQ tour mentioned that things were in flux as they were moving some equipment here to Marathon and some equipment from Marathon to HQ. While it seems obvious that Marathon is setup to handle everything from milling to the first stripping run, there was also a stripping still at HQ and there's a spirit still here. Perhaps these were next to move, or maybe they want to keep the flexibility to do double distillation at both locations?
Now that I've mentioned the spirit still at Marathon, let's talk about it a bit more because it's a very unique still. You might have noticed a poster-sized photo of it on display in front of the stills at their HQ.
Meet Ethyl, Corsair's pre-Prohibition pot still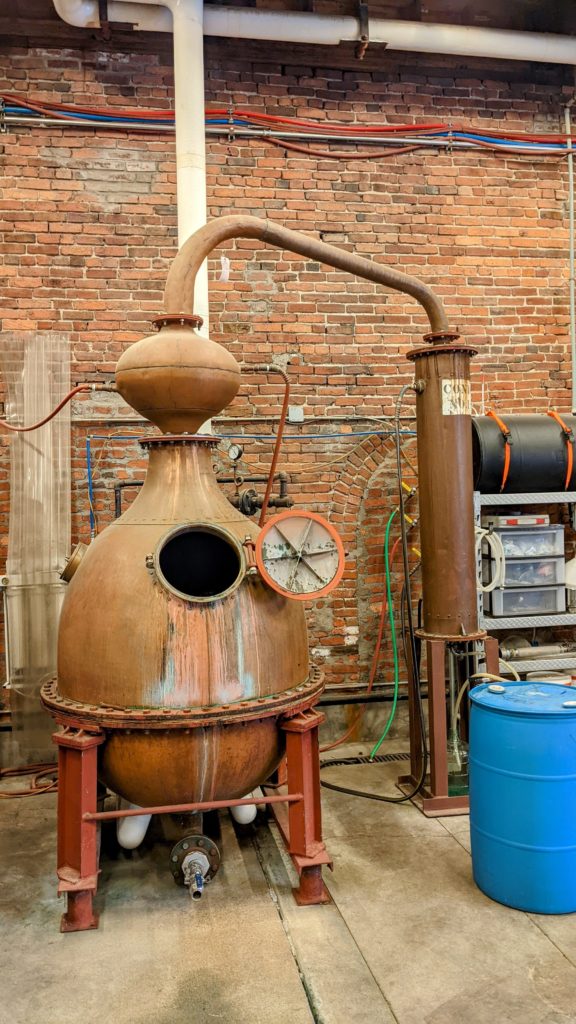 Matt Strickland got his start in distilling on this pot still and mentions it several times in his excellent book Batch Distillation: Science & Practice. He acknowledges that there are many stories about the still's past, and I've heard several. No matter which of the stories are true, this is a very unique antique still and it's great to see it still in use.
Ethyl is a 250 gallon still that with its original very tall neck was almost 20 feet (6 meters) tall according to Strickland. Because the Marathon complex is a historic building, they weren't able to modify the building to fit the entire still so they were forced to cut 6 feet (2 meters) from the neck. This reduced reflux in the still leading to a lower strength spirit with a richer character due to higher levels of congeners. The ogee in the still has a precondenser (see the water pipes going in and out of the sides), which can provide some additional reflux if needed, though I don't know if it's original to the still or if it was added after they shortened the neck to try and restore some of the lost reflux.
The reason I said earlier that I don't think this is the original location for Corsair's distillery at Marathon is because of this story. Older photos of Ethyl show a room with a much lower ceiling, and while a twenty foot tall still might not fit here, they wouldn't need to cut as much of the neck out to fit here.
Outside
With such a tight space, Corsair has to locate some things outside. Their boiler is in a shipping container outside the door, near dumpsters of spent grain from their last batch.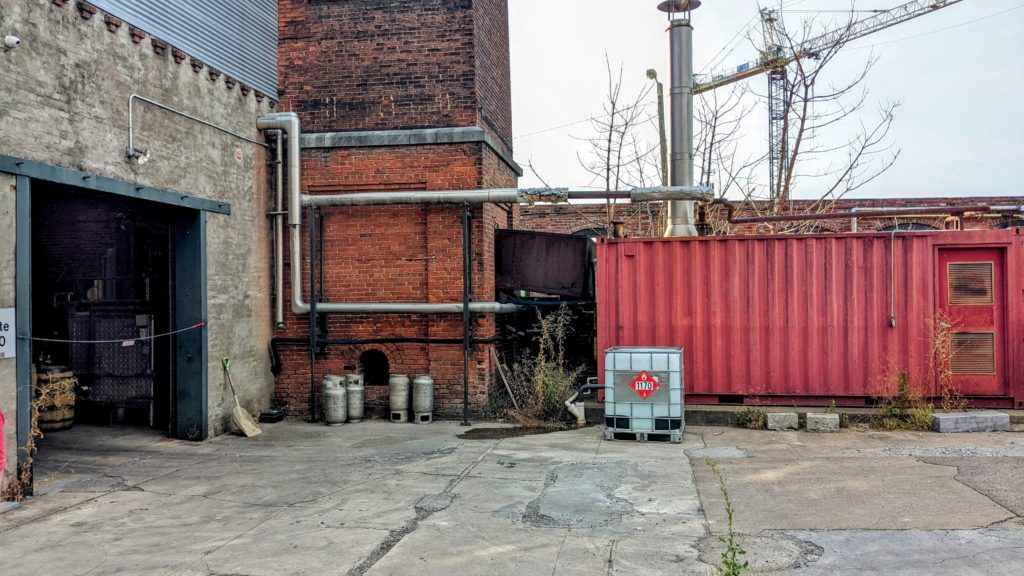 Tasting
After the tour, we headed back inside to a private tasting room. I won't go over the spirits we tried here as they were mostly the same as at the HQ tour, but we did try their Corsair Red Absinthe (56%) made from NGS, redistilled with herbs and then infused with red hibiscus flowers.
Visit details
As mentioned, our guide worked the bar, but was very knowledgeable and the tour and tasting were well executed with accurate detail about the production process and spirits. There's a large area with merchandise and bottles for sale next to the taproom.
They're at 1200 Clinton St Suite 110 in Nashville. Tours with a tasting flight are $14. They're currently open Wednesday – Monday from noon to 7pm. Tours are hourly from 2-5 (there's an additional 1pm tour on Sat and Sun). The bar is open for walk-in tastings and cocktails. You can reserve tours and confirm hours at https://www.corsairdistillery.com/tours-tastings/. There are other restaurants and bars in and around the Marathon complex if you're looking for something to do before or after your tour. Nelson's Green Brier distillery isn't far from here (I missed it on this trip, sadly).