Note: I started typing this in late 2021 before the collection was released. It's since been released, and I've added a section at the end with release details. I'm publishing it today and leaving the first part of the article as-is, so you'll see it referred to it as an upcoming release.
There's been a lot of excitement around the upcoming Hampden Estate 8 Marks Collection release from Velier next year, but very few sightings and tastings of the actual set. Fortunately, Velier sent the great Daniele Biondi to Whisky Live Singapore in November, and I was able to taste the set at his Hampden masterclass!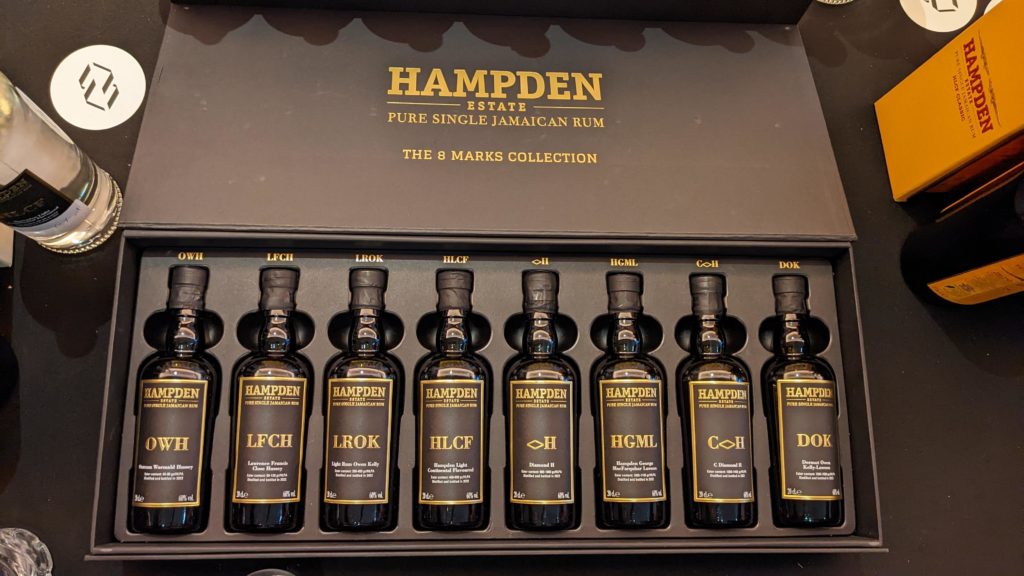 Production of the sets had a few setbacks due to a shortage of 200ml bottles, but it's now underway.
Hampden Estate Masterclass
Daniele's Hampden Estate Masterclass and tasting on Sunday evening was one of the highlights of Whisky Live Singapore (in fact, more than a few people at the tasting told me that the masterclass was worth the price of admission to the entire show).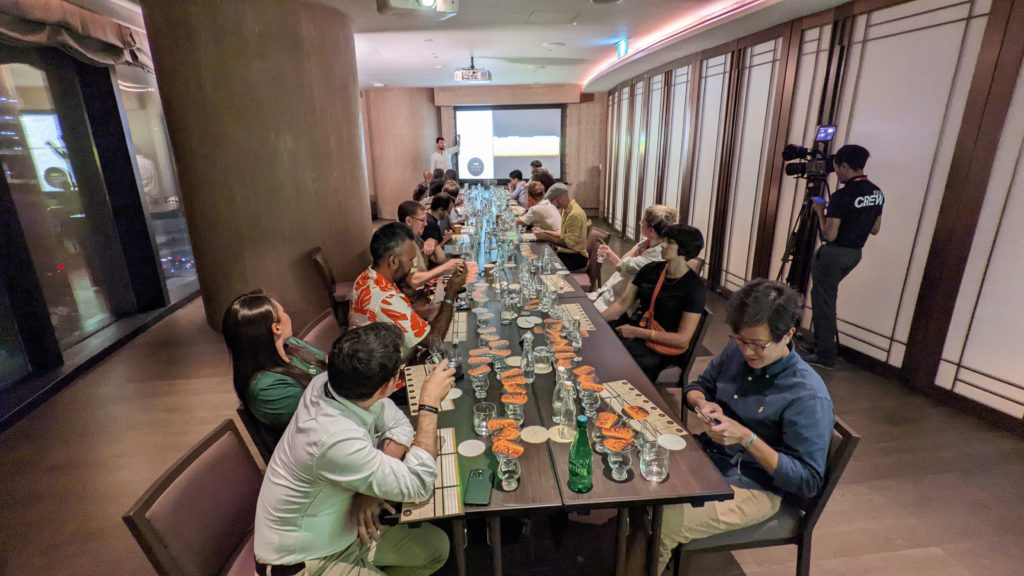 The session started with a very detailed and informative talk on Hampden Estate and its place in the history and traditions of rum. There were four main sections to the talk — the historical background of Hampden Estate and its place in the rum world, a technical dive into how Hampden Estate rums are made and how they're different from other rums, a discussion of the chemistry of their rums (esters, congeners, etc), and finally how everything comes together to produce the smells and flavors in each mark (this is where we actually get to taste the set).
In the above photo, you may notice coasters on top of the Glencairn glasses. Hampden Estate rums are so fragrant and full of volatile aromatics that if the glasses were all left open it would be impossible to smell anything in the room after a few minutes. This is a challenge that I hadn't considered before and I'm not sure I've been to another tasting where this had to be done.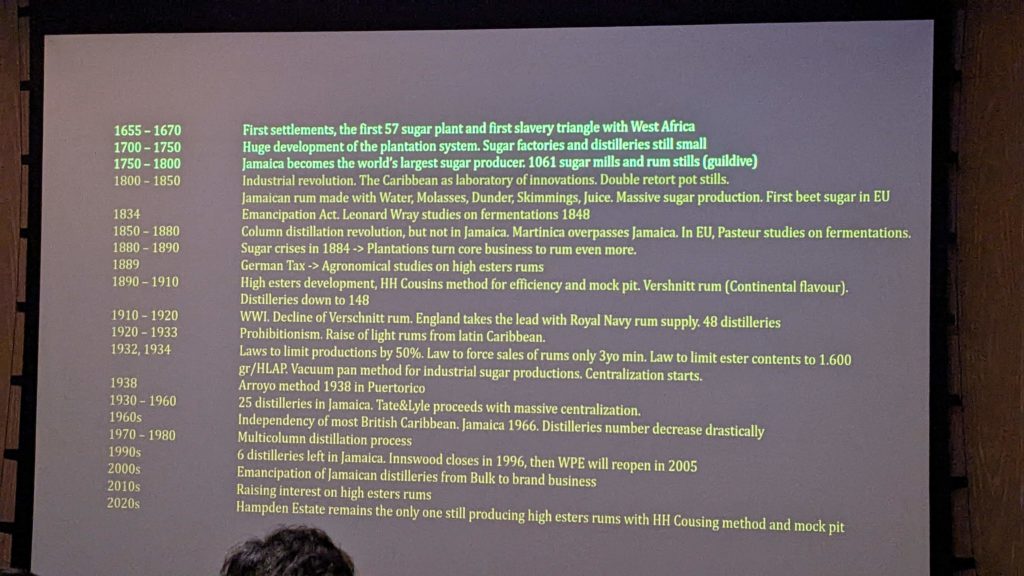 You can see from the timeline that the history section was quite detailed and super interesting. At the very beginning of the class, Daniele said that it might not even be accurate to consider Hampden Estate as a brand. Of course, it IS a brand, but it's also the last Jamaican distillery standing that still makes very high ester rums using the Cousins method and traditional muck pits. In that sense, it's a sort of Jamaican rum museum where these historical processes and marks still exist and is also something greater than just another rum brand.
The Lost Estates of Trelawny
Hampden Estate is in Trelawny Parish. Today there are two distilleries here: Hampden Estate and Long Pond. In 1902 (before the demand for high ester Jamaican rum fell causing distilleries to close and eventually consolidate) there were just a few more — 23! The names of a few of these live on at other distilleries (Cambridge and Vale Royal), but many of the others are rarely if ever spoken of in the rum world today.
Here is a list of rum producing estates in Trelawny, Jamaica from Daniele's presentation. Bolded items are still operating.
Bryan Castle
Brampton Bryan
Braco
Cambridge
Etingdon
Fontabelle
Freeman's Hall
Georgia
Green Park
Gale's Valley
Hampden
Hyde
Kent
Lottery
Long Pond
Lancaster
Manchester
Oxford
Orange Valley
Swanswick
Steelfield
Tilson
Vale Royal
This shows just how many distilleries have been lost in just one parish. And this is only a list of those distilleries operating in 1902 – there are many others like Acton, Arcadia, Barnstable, Belmont, Berkshire, Biddeford, Black Garden, Bounty Hall, Bunkers Hill, Carrickfoyle, Cheshire, Chester, Clermont, Clifton, Colchis, Dromilly, Dry Valley, Duan Vale, Dundee Castle, Florence Hall, Forest, Friendship, George's Valley, Gibraltar, Golden Grove, Grange, Green Vale Pen, Greenfield, Greenside, Hague, Hampshire, Hampstead, Harmony Hall, etc, etc, etc. You can find a much more complete list here, but I think this gives you a good idea of how drastically the rum industry in Jamaica has changed over the last hundred or so years.
The Tasting
I hear you saying "Okay, Robbie – I can read about Jamaican rum history in lots of places. How was the tasting?". Well, one downside of this being the last session of Whisky Live is that there wasn't much time for the session to run over (though it did a little bit). The tastings were at the very end of the session, and unfortunately Daniele had to move rather quickly through each of the glasses. Still, they were all delicious — even the DOK, which several attendees were a little wary of beforehand. Much later that evening at Skinny's Bar, Daniele told us that one of his goals for the tasting was to show that DOK wasn't something people should be drinking straight. We replied that many of us (myself included) thought the DOK was surprisingly drinkable and enjoyable.
I know I haven't gone into much detail about the tastings here, but as we were a bit short on time to go through all eight glasses it's not fair for me to comment on specific ones here. I hope to be able to buy a set once they hit the US so I can try them again (and also try them beside the TWE Rum Show set).
Panettone!
There was a final surprise treat after the tasting flight. Since we were coming into the Christmas season, a few specially-baked panettone cakes were brought out. Each was made with DOK rum. They were delicious, though after going through eight glasses of Hampden rums I honestly can't say I noticed DOK in it or not.. it'd be great to have this again on its own without rum beforehand. Velier has offered these cakes to several reviewers and resellers since Whisky Live, so there's hope that it might be possible for more people to try it (and maybe it might become a regular release?).
The Release
Since Whisky Live, this set has been released in Europe, though it's sold out at primary suppliers. La Maison du Whisky France offered it at €139, though Singapore hasn't received it yet. It also doesn't seem to have reached the US yet, though I hear it should hit retail soon.
The great folks at 88Bamboo were also at the tasting and wrote up their thoughts in a post here. They also included some detail from the fantastic placemats Daniele put together for the event that break down congener levels in each mark, as well as what goes into each (levels of molasses, cane vinegar, dunder, muck, etc).
If you'd like more tasting details on the set, the guys over at WhiskyFun tried them all.