Hampden Estate announced their 8 Marks Collection set at Whisky Live Paris on 26 September. If you're a lover of funky, fruity Jamaican rums this is a set you'll probably want to look for.
You may remember hearing rumors about this set in early August, when an announcement was accidentally posted early to Hampden Estate's Facebook page and then deleted once excited discussions started in rum forums.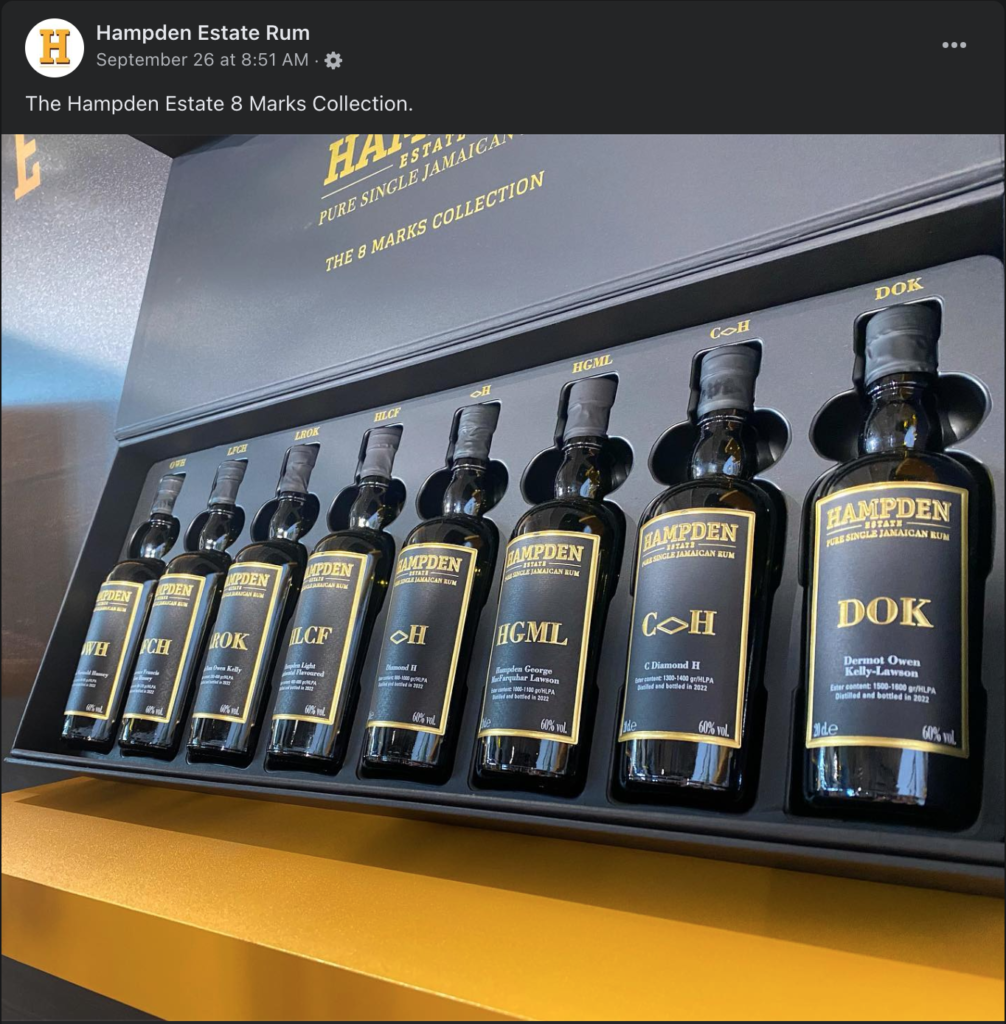 Hampden Estate's rums aren't typically released unaged. You'll usually find them after they've spent a few years in oak casks. The beauty of this set for rum geeks is the opportunity to try these spirits raw, without any character added from cask aging. Nothing against cask aging of course, but it certainly changes the spirit in a big way. Having these raw spirits available opens up fun opportunities like trying unaged DOK next to an aged DOK and seeing how it changed in wood over time.
There are 8 marks in this set, ester levels are given in gr/hLPA. Each bottle is 200ml, 60% ABV, and the spirits are all distilled and bottled in 2022. Information given here comes from the labels submitted for TTB COLA approval in the US.
| | | |
| --- | --- | --- |
| Mark | Esters (gr/hLPA) | Abbreviation Meaning |
| OWH | 40-80 | Outram Warmold Hussey |
| LFCH | 85-120* | Lawrence Francis Close Hussey |
| LROK | 200-400* | Light Rum Owen Kelly |
| HLCF | 400-600* | Hampden Light Continental Flavoured |
| <>H | 900-1000 | Diamond H |
| HGML | 1000-1200* | Hampden George MacFarquhar Lawson |
| C<>H | 1300-1400 | C Diamond H |
| DOK | 1500-1600 | Dermot Owen Kelly-Lawson |
*: Ester levels on label differ from ranges previously given by the distillery or sussed out by CocktailWonk. Rum geeks may notice these changes, but I seriously question if most (or any) drinkers could tell the difference between levels of 85 and 90 in the LFCH, for example.
This is actually the second time a set of unaged Hampden Estate marks have been sold together as a set. The first time was in early 2021, when The Whisky Exchange's virtual Rum Show held a Hampden masterclass that featured six different marks in 30cl bottles.
The Hampden Classic Marks set
I've jokingly started referring to this set as the Hampden Estate Classic Mark collection, as it only includes six bottles of the classic marks that existed before the Hussey family bought the distillery and added new lower ester marks (like OWH and LFCH).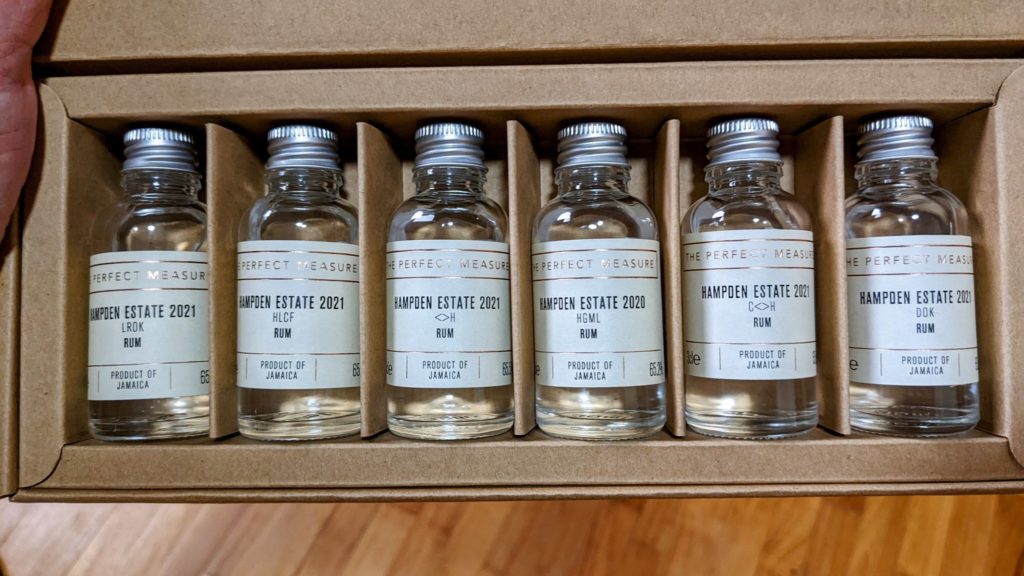 The new 8 mark set makes an apples-to-apples comparison of the different marks much easier than the Rum Show set, where the samples were distilled in different years and bottled at different strengths.
Looking at the new labels
In the US, labels for distilled spirits must be approved by the government. The TTB is the government arm responsible for this, and they make approved Certificate of Label Approval (COLA) forms available for searching online. I've included the front labels for each of the new bottles below, these images come from the COLA filings.
I also included the back label for DOK just in case anyone was curious what the backs look like. The back labels don't give additional information, and all have the same descriptive text:
Discover the rich diversity of the rums produced at Hampden Estate, captured by the wide array of marks. Each mark corresponds to a newly made spirit, and is referred to by cryptic letter codes, matching a specific method of production and level of esters.
Remember that these are labels for the United States. Different markets will have different requirements for what goes on each label (especially the text on the back label).
When will they be available?
Some online shops are already listing these sets as "coming soon" items with distillery-provided images. Excellence Rhum shows a price of €139 (about US$135 currently). There are 5,000 sets globally in this release. LM&V says they'll be in the United States in early 2023. Hopefully this means there will be enough sets for those of us who want them to get them!