Old Fourth Distillery has been a regular topic on this blog, and it looks like the saga of its sale has finally come to a conclusion. This week they announced the sale of their brand and inventory to Shortbarrel, an Atlanta-based independent bottler.

A quick recap of the story so far: Atlanta's Old Fourth Distillery produced several spirits – a vodka and gin they distilled in-house, a liqueur based on their vodka, and a bourbon made from MGP-sourced whiskey they aged in their warehouse. In September, they hired a broker to find a buyer for their inventory and brand, and I posted some rambling thoughts on this development. Things were quiet until December, when they sold their still and then closed their Edgewood Ave distillery and tasting room on 22 December.
Terms of the sale weren't released. The initial listing was for everything, including their still and the lease on their Edgewood Avenue and Bouldercrest Road properties as well as a thousand barrels of aging bourbon in their warehouse at Bouldercrest. The still has since been sold separately and both leases expired in December, so it's unknown what other items might not have been included (their distillery included fermenters, blending vats, bottling equipment, etc). Clinton Dugan from Shorbarrel told the Atlanta Business Chronicle that the next batch of O4D is on track to be bottled in two weeks, so I assume either the Bouldercrest lease was extended for a short term or they've quickly relocated everything to a new location. The initial listing was for $2.4 million dollars, but we don't know the final purchase price Shortbarrel paid.
Enter Shortbarrel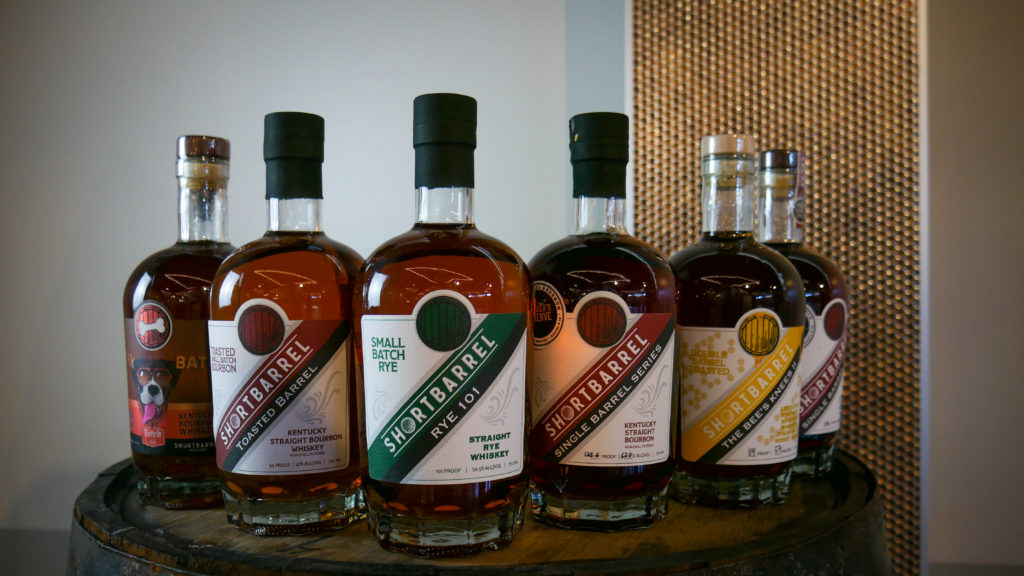 Shortbarrel is an independent bottler I haven't run across before. Based in Atlanta, they started out as whiskey enthusiasts who came together to pick a barrel. Their press release says that they focus on non-chill-filtered whiskeys at just slightly less than cask strength, which sounds great to me (and I just ordered a bottle from Seelbachs to give them a try). They source from Green River and Bardstown Bourbon Company (and I have to assume there's some MGP in there somewhere just because). BBC can be tough to get whiskey from, so this is a nice feather in their cap. Green River…. I have an automatic bias against them because of their previous "rapid aging technology" mess that produced not-very-good-at-all bourbons under the O.Z. Tyler and Green River labels. They've since given up on that (hooray!) and I've heard great things about what they've done to turn things around. Fred Minnick and others I respect have said good things about them, but as I haven't yet tried their post-turnaround spirit I'm still a little hesitant.
Shortbarrel says they will continue the O4D brand and move production to Norcross. They will also begin producing their own bourbon at Distillery of Modern Art in Chamblee later this year, which (after aging) will be the first time O4D has been fully produced in Atlanta with non-sourced spirit. Shortbarrel also says they'll be contract distilling their own bourbon this year via a contract distilling arrangement with an unnamed distillery in Garrard County, Kentucky (My first guess was Wilderness Trail, but that's next door in Boyle County).
Interesting times for Georgia spirits
It looks like we'll be seeing much more from Shortbarrel and the O4D brand in the future. This purchase gives Shortbarrel O4D's inventory of MGP barrels, which appear to be well-selected and aged based on the bottles I've bought in the past. It also gives them a larger portfolio of non-whiskey products (vodka, gin, and a liqueur) that should help their main whiskey brand get a foot in the door at bars. It's also exciting to hear that the O4D brand will transition away from being a sourced brand. Shortbarrel appears to be very transparent when it comes to their releases, and the way O4D tried to hide the fact that their whiskey was sourced rubbed many enthusiasts the wrong way. I get the feeling these problems will disappear now the brand has a new owner.
Distillery of Modern Art wasn't yet open when I did my distillery tour last summer, but they're now open, and I hope to visit them later this month. It's great to see that they're ready to do contract distilling and that they're trusted out of the gate to distill for O4D's future releases. I wasn't really sure what to make of them last year based on their website — were they actually a serious distillery or an event center/art project mashup that distilled on the side. Since then they've installed serious equipment from Vendome and hired a serious distiller, so things are looking hopeful!